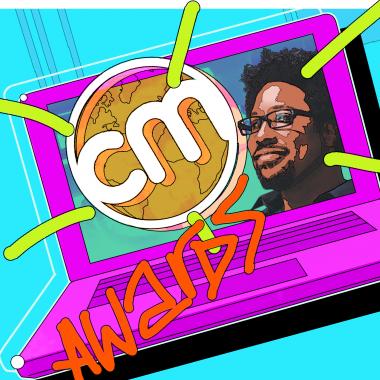 Last week, we attended the virtual Content Marketing World 2020, the polestar event for content marketers searching for marketing strategies from the industry's top thought leaders. 
As the 2019 Content Marketing World Agency of the Year, we were proud to sponsor and participate in this event. Over the course of the week, 225 speakers representing 500 companies delivered more than 100 hours of illustrious and educational content. 
Here are our top visionary moments from the event.
1. Robert Rose, "Architecting Desire: A New Strategy for Content Marketing for the Next 10 Years"
Robert Rose is a bestselling author, speaker and highly acclaimed expert in digital content strategy. When Rose is on the docket, you know you're in for a treat: contemporary insight backed by his virtuoso wisdom. 
Satisfaction used to be enough to move an audience. Creating desire used to be enough to build fans. That's not the case anymore. Consumers are experiencing a time shift. There's been a "decommodification" of physical space, and getting in front of consumers is becoming much harder. The zone of passivity is one all marketers will have to face during this pandemic as they seek to capture an audience's attention, and now more than ever it may be harder for audiences to take action. 
Content marketers must understand the new consumer journey. Rose recommends installing organizational capability within your content workflow to create connected experiences for your audience. Architecting desire means creating a pathway to move an audience through the journey while engaging, teaching and measuring each move, eventually showing your audience how to be a fan or an advocate, not just expecting them to.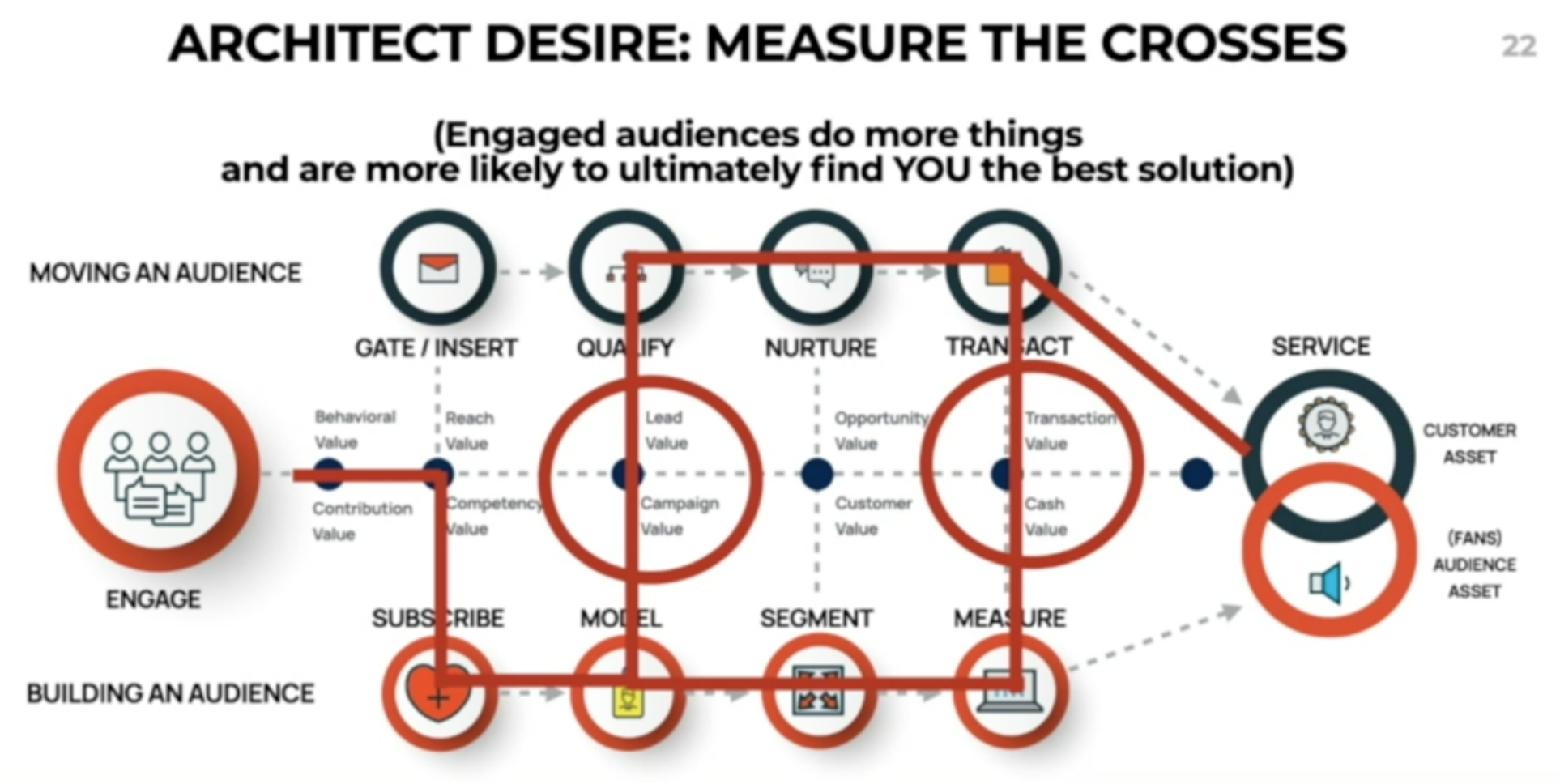 Manifest takeaways:
Organized content workflow is the bridge between unilateral digital content and the content of the future. Always start with the creative brief, and plot your customer journeys and every possible choice until you've drained your options. Then intersect and build, ensuring each experience is ripe with visual and personalized content. 
2. Jay Baer, "Courageous Content: 6 Ways to Get Noticed Amidst the Noise"
Jay Baer is a New York Times bestselling author and a renowned marketing and business strategist. With his much-needed inspirational and encouraging outlook on the content landscape, Baer reminded us that everyone is capable of courageous content.
"Courageous content only exists if you have the guts, grit and gravitas to make something that simply must be noticed," he said.
Baer outlined four features of courageous content:
Be talkably definitive. Creating content that is conclusive and exhaustive can propel your brand's content over that of others that may choose to leave relevant questions unanswered. "If you're going to provide answers in the content marketing arena, why not provide all the answers?"
Be talkably relevant. Your audience will want to discuss content that they feel speaks to them directly. Ninety-one percent of consumers are more likely to buy from businesses that provide hyper-relevant information. 
Be talkably resonant. This is content that strikes a personal chord with your audience. Not everyone responds to content in the same emotional way. However, when you can crack the code and land on a theme that affects a large number of people, then you've truly resonated with your audience.
Be talkably useful. What do your audience members need to know? Give them that information. "It takes courage to tell people everything they need to know to NOT hire you."
Manifest takeaways:
Big ideas are the cornerstone of a great content strategy. Be explicit in the pursuit of your audience's needs, wants and desires. Pressure-test your content to be sure it stands up against your audience's behaviors and journeys. Eliminate anything that doesn't resonate. Be uncomfortable with how much you give away, then give a little more.
3. Luvvie Ajayi Jones, "Speaking Truth to Power"
"Speaking out in truth can be powerful, but how do we find the courage to do so when we're the only ones and the stakes are high?"
Luvvie Ajayi Jones is an award-winning writer, digital strategist, New York Times bestselling author and prolific public speaker with big names shouting her praises, including Netflix and Oprah. In an openly honest and humorous presentation, she challenged us to get comfortable with being uncomfortable because the truth is worth it. Chock-full of integrity, Ajayi Jones has guided herself through impostor syndrome, freezing under pressure, inequality and the topic of the presentation: being silenced. 
Ajayi Jones developed a system to break out of the winding wheel of speaking without power. She calls this the art of professional troublemaking. She boils the truth-making process down to three essential questions:
Do I mean it?
Can I defend it?
Can I say it with love?
"If the answer is yes to all three questions, I say it and I let the chips fall."
Manifest takeaways: 
The truth means telling consumers what they need to know, not always what they want to hear. Be willing to question your own beliefs and systems to deliver information that your audience deserves to know. 
4. Joe Pulizzi, "Where Do We Go from Here? Disney, Diversification and the New Marketing Business Model"
Marketers everywhere are struggling to roll with the punches of an unprecedented time in the industry. But Content Marketing Institute founder Joe Pulizzi thinks this is an incredible opportunity for content marketers.
"I believe the key to transforming your marketing business model is by developing content assets through real strategic diversification." 
Are you treating your content and media assets like your financial assets? Pulizzi details two incredible opportunities for content marketers: diversification and higher education.
"Today, many enterprises believe they are diversifying, but they are making huge mistakes. For example, an enterprise might say: Build a Facebook group, then a LinkedIn group, then an Instagram feed, then dabble in TikTok. Technically this is diversification, but it's similar to buying stock in Apple, Google, Microsoft and Amazon—all good, solid ideas but pretty much like having multiple types of pasta. At the end of the day, it's all pasta."
In Pulizzi's eyes, there are two types of true diversification: channel and goal. 
For channel diversification, first create single assets, then expand into other areas, creating a suite of content for your audience. 
To attain goal diversification, optimize for the revenue-based goals extracted from your audiences. Win revenue, grow revenue, direct revenue and keep revenue.
Manifest takeaways:
Your content needs to create more value. Add true media assets in a deliberate fashion. Once you stop thinking that you need to create everything by yourself, you'll begin to operate as a true media brand. Our client CDW is a great example of a diversified content hub. CDW prioritizes its efforts in six key sectors aligned with 
its core business: healthcare, K-12 education, higher education, state government, federal government and small business. CDW's continually evolving, integrated content marketing program features six titles in print and online in addition to a corporate blog and content pages on CDW's e-commerce site.
5. W. Kamau Bell, "Comedy, Trust and Diversity in Content"
W. Kamau Bell is a sought-after comedian, host, executive producer and writer who perfected the intersection of sociopolitical topics.
Robert Rose interviewed Bell in a hilarious and witty conversation. When talking about today's world of comedy, Bell stated, "The definition of stand-up comedy today is being re-examined. … We're broadening the perspective." How do comedy and marketing go together? At the root of comedy, it's about building connections and a loyal audience who will follow you wherever you go. Your brand is your word, and comedians are held accountable to it with more volatility than most brands have to answer for.
When looking at content for his many projects, Bell's strategy is to be active in understanding what works. "I only talk about a handful of things, but if I keep investigating them, I'll find new ways to talk about them." Reinvention doesn't always mean new. 
Looking at the state of marketing and branding today, Rose asked about Bell's perspective on sponsorship and brand deals. Bell spoke about finding a balance between knowing exactly what you want to support, show up for and represent and having the insight that financial moves can help support the "other good work you do." 
Manifest takeaways: 
As the industries we know and love change, we must continue to grow and evolve with them. But that doesn't always mean reinventing the wheel. Scaling your content in today's digital landscape could mean choosing new partnerships to strengthen your content library, as Bell did by broadening his comedic reach with a podcast. It could also mean narrowing your focus and deepening your content in the areas you already serve. Either way, be deliberate in your choices, making sure that your broadened content makes sense, or your audience will think you're joking. Pun intended.
6. Andrew Davis, "Limit Less: How Successful Brands Increase Their Revenue, Generate More Leads and Spread Their Message in a Crowded Marketplace"
Outfitted with an orange bowtie and orange glasses, Andrew Davis came to entertain and inform. One of the first things Davis said marketers need to do is to acknowledge and destroy the "expert illusion." 
Andrew believes this illusion presents itself in two ways, by the "credibility killer" and the "lucky fraud."
The credibility killer will have you believe you don't have enough experience, knowledge or street cred to educate, talk to or instruct others. "Credibility isn't given to you by touting your experience. Credibility is earned by delivering a transformative experience."
The lucky fraud voices shout "impostor, impostor, impostor" to you with every piece of content you attempt to make. Davis cautioned not to listen to the little rascals: "You're only an impostor if you believe you're an impostor." And quite simply, the world doesn't need more experts; it needs more visionaries. 
In one of the coolest setups of the event, Davis moved into a dark room and began writing on our screens, detailing how we can transition from expert to visionary with "The Quest Matrix."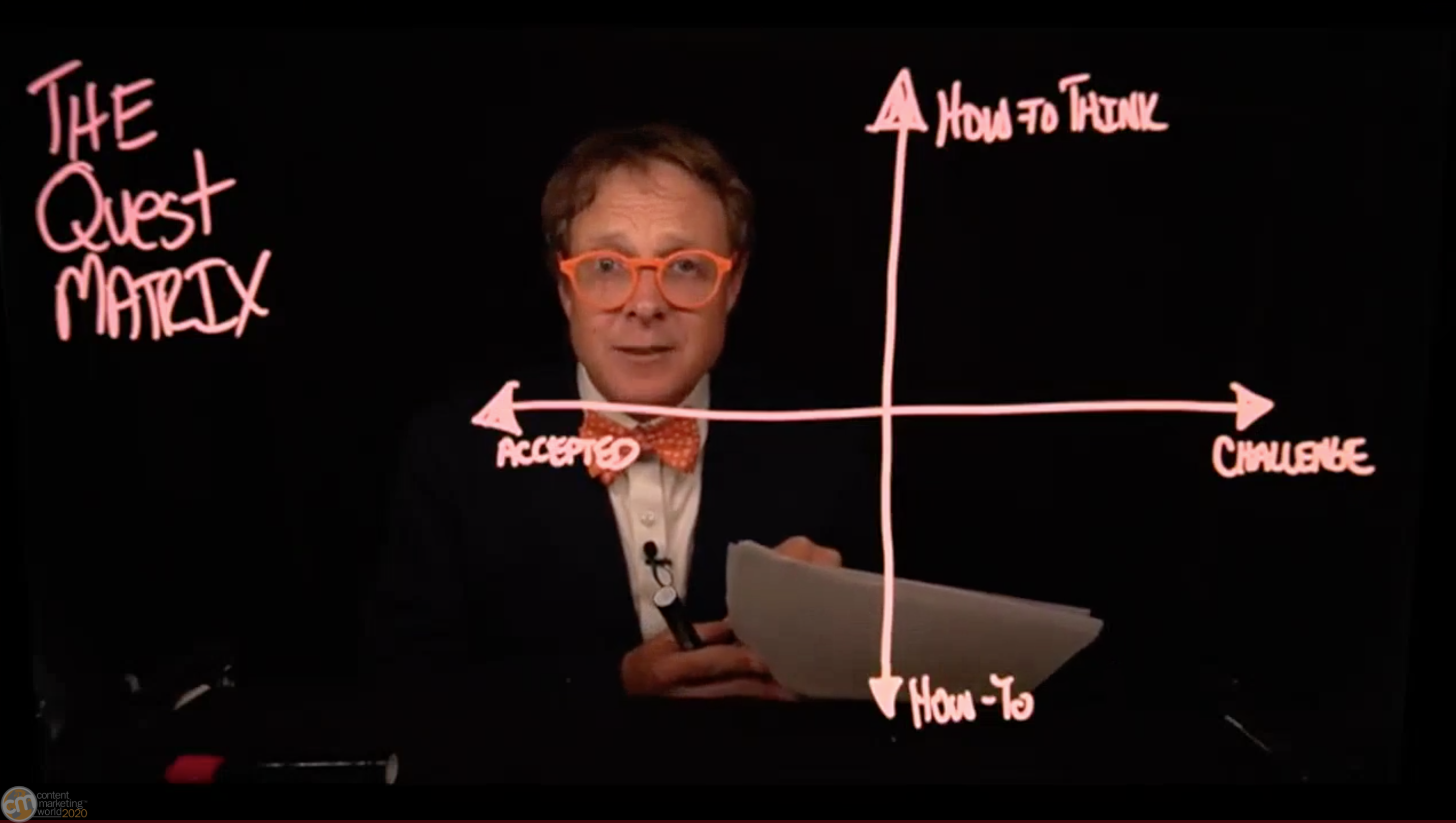 Davis detailed how to plot your competitors' work and locate areas of opportunity for more visionary pieces of content. Davis said three steps will get you out of "expertville" and into visionary status.
Launch an investigation. Ask questions, and be curious at the feet of your desires. The more you learn, the more you share.
Get comfortable with being uncomfortable. As you work toward visionary status, it won't always look like success. Your marketing choices, your content and your strategies may fail again and again. However, those who stick with it are closer to winning than those who quit.
Amplify what works. You have to be ruthless in your pursuit of successful ideas. Your pursuit may produce tons of results. Kill what doesn't work, and what your audience doesn't respond to.
Manifest takeaways:
Our vice president of intelligence, Geoffrey Director, said it best in his article "Is Your Content 'Essential Business'?" "Do not assume the way everyone in your category does content is the right way." You must establish what only you can do that would be of unique value to your audience. That will be your true value as a content marketer. 
These are only six ideas that we took away from an event crammed full of delicious nuggets worthy of your attention. We hope you see value in these lessons that can truly propel your marketing efforts. It's a challenging time to be a marketer, but we all have the great advantage of being at the helm of a new way of doing things. Let's take the opportunity and run with it.
If you're looking for a partner in your marketing pursuits, please reach out to David.Brown@manifest.com to set up a meeting. We look forward to hearing from you.