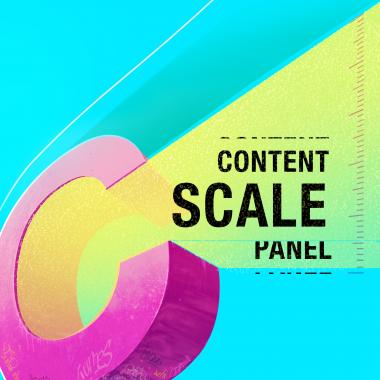 How do you scale content?
That was the topic of discussion at an October 2020 workshop sponsored by Manifest and featuring senior marketing executives who shared their insights and best practices with professionals in the content marketing field.
Kicking off the conversation, workshop moderator David Brown, Manifest's executive chairman, said many marketers aren't sure how to scale appropriately, or they may not even be clear on what it means to scale content. "Robert Rose, head of strategy for the Content Marketing Institute, said it's the topic he gets the most questions about," Brown said. "And it's relevant because, as the ANA has reported recently, most content budgets are increasing."
Brown was joined by four panelists:
During the 90-minute workshop, the marketers discussed what content scaling really means; the importance of strategy, performance and distribution; and how to keep internal teams energized. Here are six key takeaways:
1. It All Starts with Content Strategy
"What content scaling means to us is getting more results, improving your business performance," Brown said. The first step is having a crystal-clear content strategy in place that outlines goals and objectives and has buy-in from all stakeholders, he added. "But we know that only a third of marketers have a content strategy."
Petersen said when CDW launched its content marketing program 20 years ago, it was with a clear goal in mind. "We were trying to change the perception of CDW from just a technology reseller, and really start to showcase a lot of our offerings, focus more on solutions and services, and become more of a trusted adviser," he said. The program has worked exceptionally well, he said. "We've been able to get our customers to think about us differently in terms of how they can engage with us. And our sellers have been able to engage with our customers through content in a way that they hadn't been able to do before." (Full disclosure: Manifest is CDW's content marketing agency.)
Bell, who recently retired from Travelers after seven years and is now a consultant, defined content strategy as "making specific choices that uniquely position you to create sustainable advantage and superior value to the competition."
"At Travelers, a strategy in the home space became all about engaging what we call 'home actives,' and these are people who are either buying a house, moving, refinancing or renovating," Bell said. "These are all moments that will ultimately lead to an insurance choice but aren't yet about insurance. And if we can help them in those moments, we can engage them more often, we can improve consideration overall—and, to be fair, we can sell more policies."
Internal research proved the value of the program, Bell said. "When we tracked the content exposure, there was a 46-point improvement on the 'first brand' or 'only brand that I would consider,' so that was an endorsement overall for the strategy."
2. Less Is More
A common perception about content scaling is that it requires more content and a bigger headcount, though neither is necessarily true, the panelists said.
"You have to ask yourself: Do you care about the size of your library or the size of your audience?" said Sage software's Romo. Many companies make the mistake of focusing on the former. "They want to know how many blog articles are published, how many guides are online, how many videos are on YouTube. If there's a lot of content, there's a perceived idea that you're doing the right things and you're everywhere you need to be."
Romo continued: "If you focus on the size of your audience, scaling becomes much more feasible without having to hire and without having to increase a budget. And you will ultimately have the right kind of business impact."
Even though CDW's content program has had significant growth over the past 15 years, Petersen said his team isn't much bigger. "We've been able to scale through agency support, which oftentimes can draw in more talent and really find different skill sets that we might not specifically hire for at our company."
3. Prioritize Performance
The well-known dictum that 5 percent of a brand's content is driving the majority of engagement creates all sorts of opportunities for improving the way marketers plan, produce and distribute content, and that all comes down to performance, the panelists said.
"One thing we're doing a lot more of now is starting with data and then creating content for our business needs based off of that data," Petersen said. "And we've seen some great organic growth and also even proportional growth based on using search optimization as kind of the baseline for a lot of the content we're creating."
Romo said on her team, one person's entire job is content performance. "He does all kinds of analysis at the forensic level all of the time. He looks at the timing of the content. He looks at search volumes. He looks at every aspect that can help our performance," she said. "Across my entire team, that is the one resource I can't do without."
4. Consider Distribution
At Bank of America, Stroud said a key priority for her team is publishing content in a variety of distribution channels, including third-party media. "We now partner with the media team on a regular basis, not once a quarter or not once a month, but a couple of times a week," she said. "We start that conversation with insights about what's happening in the marketplace and what our customers, clients and prospects are looking for. And then we pair that with content that's already in flight and we get it out there."
"The other thing that's been successful is targeting specific influencers with our content so that they can do some of that legwork for us," Stroud added. She said that approach worked well at the World Economic Forum's annual meeting in Davos, Switzerland, for instance. "We're trying to become a part of the conversation. By targeting specific influencers so that they were engaging with our content and maybe sharing it or talking about it, we were getting attention from their followers as well. So that exponentially created more eyeballs on what we were doing."
5. Don't Overlook the Insiders
"It's a bit ironic, but as marketers, we often focus on marketing to our audiences, and we neglect to market internally to our leadership teams and other stakeholders," Petersen said.
Internal marketing "is really important to make sure that you continue to get the investments that you need and the resources that you need," he added. "If you're not meeting regularly with leadership, what ends up happening is they either have a preconceived notion of how things work or they maybe knew what your program looked like two or three years ago, but they don't really understand the innovations that you put in place and the investments you've made to make it work even harder for your company."
Stroud said Bank of America's head of media, Lou Paskalis, "is a huge believer in content," and having his support "totally changes the equation with the audiences we're going after because he has a seat at the table with the most senior people [at Bank of America], who are wondering what content marketing even is, and he's able to explain it."
6. Keep Your Team Energized
In the fast-paced, demanding environment of content marketing, it can be challenging to keep team members motivated and excited about the work they're doing year after year, Brown said. He asked Romo: How does she keep her team energized and fresh?
"This is the trick, because content is a specialty, so people are there forever, and over time they're going to burn out and not be interested," said Romo, who laid out three ideas:
Establish career frameworks across the company to encourage movement and internal growth. "So if somebody is a writer today on the content team but would like to be doing much more work on the website, there's a career framework and a path that can help them apply for a job on the web team."
Treat your content writers as real authors and journalists, and help them develop their expertise. "That's very rewarding for them. Too often, companies will publish blog posts that just say 'published by the company,' and so nobody knows who wrote it. We made a decision on day one that every single article is going to have the author's picture and bio."
Do fun things as a team. "This may seem like a bit of fluff, but writing is creativity, and concentration is creativity, and we often forget in the grind that we have to be creative and come up with new ideas. So my team, for example, we're going to do a breathing workshop with a breathing coach. We're also going to do a workshop on empathy. And every other week, we have an informal virtual gathering, sort of like getting together at a pub."
Here is a video replay of the workshop. If you'd like to know more about our upcoming events, or take part in our next workshop, please email David.Brown@manifest.com.