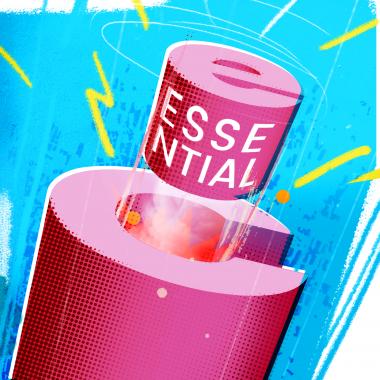 The deluge of coronavirus content pouring out of the marketing community was predictable, but also indicative of what plagues marketing generally—and content specifically.
It tends to be reactionary, surface-level, self-serving and insensitive to the audience's emotional reality. Topical yes, valuable no.
For some of our clients, now is go time for content. Online learning companies, packaged foods, telework technologies, ecommerce businesses and others find themselves in the spotlight. This post is not for them. No thought leadership is required to know that if your brand's content could be of use to people conducting their lives from their living rooms, go forth aggressively.
No, this post is for the travel companies. The automakers. The retail businesses. Those businesses and brands soon to be on the front lines of an economic mess, for whom churning out a few more articles is nowhere near the top of their priorities. If content is about bringing value to your audience, what can we offer marketers at companies like these?
Slow Down to Speed Up
As we all get temporary relief from the hectic din of daily marketing operations, we are provided the head space to ponder some of the bigger questions that most of us rarely allow time for. Obdurate strategic questions that are never convenient to answer, like:
Why are we doing the content marketing that we always do?
Is our content really working?
How could we streamline our content so it's more effective and more tightly connected to our brand?
We have, in recent years, been seduced by short-termism. Digital marketing has, in many ways, proved to be a fickle mistress, tempting our pleasure sensors with the immediacy of metrics and tactics but often leaving us strategically empty inside.
But now we've got the time to reappraise our marketing capabilities and form a clearer vision of what we really want our content to be and do.
"Do not assume the way everyone
in your category
does content is the right way."
Huddle over a hot cup of tea while you ponder this question: What is the content that only your brand can provide that would also be genuinely valuable to your audience? Now ask yourself: Is this what you're really making?
The intricate dance of content marketing requires balancing your own brand equity with true audience insight. Few organizations ever figure out the footwork.
Identify What Only You Can Do
Let's talk about both halves of this critical question, starting with the first: What is the content that only your brand can provide? We forget that brand building should be a core outcome for content marketing, not just click-throughs. Your goal isn't to compete for traffic; it's to build a brand.
Let's take a quick moment to note that unexpected times like these are one of the main reasons to build a brand in the first place. Whether it's a pandemic or something more pedestrian like a disruptive new competitor joining your category, it would be nice if your content had been stockpiling consumer goodwill and insulating your reputation for years. (But let's not dwell on the past.)
Making your brand stand out in the world of content is not as daunting as you might think. Yes, the marketing clutter in your category seems stifling, but remember, it's all the same. Do not assume the way everyone in your category does content is the right way. Find no comfort in the herd.
Write out all the conventions of content marketing in your category and then consider what might happen if you did the opposite. In the generic world of male-centric automotive content, full of tech features and performance factoids, Subaru has built a loyal and emotional following with women and the LGBTQ community by talking about love. It's not just men who love cars, and it's not just payload or horsepower that matter.
You have a brand strategy, so use it. There has to be something in your company's story, its way of doing things, the expertise it has or the relationship it has with customers that makes it special.
In all likelihood, that which makes your product different can make your content different. If your stores are eclectic, make your content eclectic. If your tourist destination is adventurous, turn your content into an adventure. If hordes of people aren't already searching for the thing you're best at, it's probably because no one has made it interesting yet. Take the challenge.
Figure Out What Your Audience Really Needs
Now for the other half of the question: What would be genuinely valuable to your audience? There's a difference between being relevant and being valuable. Relevance is the plane on which most of our industry competes. But let's be honest, it's not too high a bar. All you need for that is Google Trends, automation technology and a pulse.
We see this a lot in clients' content pillars. If we're talking to, for example, an upscale fashion brand, inevitably its content pillars will be lifestyle, dining and travel. Undoubtedly, these are areas of interest for the audience, but they're already well covered, and the brand has no particular expertise to offer. No one needed a scarf to provide a travel itinerary for London.
Valuable content is the stuff your audience may not even be aware they want or need. If folklore holds true, Henry Ford was on to something when he purportedly said, "If I asked the consumer what they wanted, they would have said a faster horse."
The consumer banking and finance industry is particularly guilty of using the same obvious content themes. These brands churn out redundant, perfunctory savings and retirement blog posts. Chase, on the other hand, has invested in consumers' financial literacy in a big way with "Chase Chats," an in-branch, in-person learning platform. That is content marketing. 
Learn what your target audience needs or wants instead of just reflecting back to them what they currently have or do. Determining what that may be is, of course, hard. But we know exactly how to do it: market research. A good old-fashioned mix of qual and quant methods, and smart secondary research. Yes, look at the data.
But when is the last time you were face-to-face with your consumers? When was the last time you sat behind the glass or went mystery shopping or did ethnography? Your audience has unmet emotional needs. Go out and find them. If you don't get more than skin-deep learning about your audience, your content will be shallow too.
Crystallize Your Content Program's True Value
If you can pretty well answer both halves of the big question, try articulating your content value proposition. Think of it as a simple phrase that sums up your entire content strategy: an articulation of the value that your whole program should deliver to the audience.
It's the centerpiece of our model for developing a content strategy, which we call the Content Value Model. Once you nail it, you'll find that making all the other tactical decisions gets a lot easier.
At some point this mess will be over, and we'll be asked to get the marketing machine cranking once more. Do you really want it to return just the way you left it? Use this forced pause to think through what the machine is for in the first place. Who knows when you'll have another chance?
If you'd like to learn more about fleshing out a coherent, long-term, brand-building content strategy, or you want to learn more about how Manifest moves audiences to act through content or anything else related to content, please email eric.goodstadt@manifest.com.