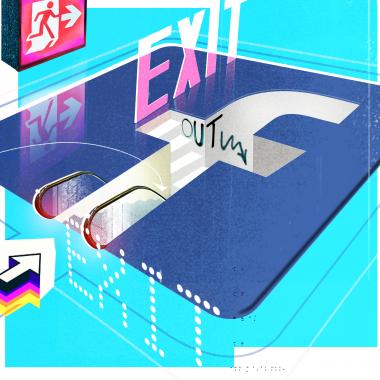 More than 750 major advertisers have decided to boycott Facebook after receiving pressure from civil rights groups. It's a big deal that large advertisers are now indicating that Facebook is doing something wrong, and that these brands—Unilever, Coca-Cola and Verizon, among others—are saying they can no longer be associated with Facebook until the social media giant makes a more concerted effort to address hate speech. 
Advertisers that have yet to join the boycott have two opposing risks: the risk to their reputations, by indirectly endorsing Facebook's absence of a policy toward hate, and the risk of losing an effective channel to grow sales. Walmart and Home Depot are the two largest Facebook advertisers yet to take a position.
How Will the Boycott Affect Facebook?
The direct revenue impact from the US boycott will be small, because large advertisers only form 6% of its advertising revenue.  In fact, Facebook's share price has risen 11% since June 26.  So the market views this as a surmountable and temporary issue.   In fact, there are literally millions of other advertisers prepared to step in and take advantage of new media opportunities to advertise with Facebook that have been created by the boycott.  The decrease in paid competition will allow them to leverage Facebook's powerful targeting to prospect and grow their audience profile.  
That said, Facebook will not want this boycott to continue into the medium term, and will surely develop an approach to properly address hate speech.  
GroupM's Brian Wieser commented that a long-term, pervasive boycott could shift advertising dollars away from Facebook.  That would surely have a larger impact on share price.  And there is a risk that the boycott could move into the consumer arena, and Facebook users may walk away from the platform.
Facebook Reconsidered
In the short term, advertisers will reconsider their approach to social media, and where to redistribute those Facebook dollars into other channels.
Interestingly, a pause in Facebook advertising creates a measurement opportunity, because advertisers will now have a significant holdout group.  Advertisers can compare revenue and buy rates in the run up to the boycott against the boycott period itself, and determine the incremental sales effect that can be attributed to Facebook, all other things remaining equal. 
Some advertisers have found digital attribution hard to establish.  For example, Procter & Gamble cut $100 million from its digital marketing spend in 2017 and said it saw little impact on its business.  Academic studies have shown that, within specific industries, Facebook may be less effective than we thought.
Either way, advertisers need to know the ROI of its Facebook investment, compared to its other investment opportunities.
If Facebook Declines, Who Will Benefit?
If the boycott moves into the medium team, other channels will benefit, especially the ones that offer the most contextually relevant, safe experiences for brands to be a part of. That means more curated and premium experiences. Magazines could even see a return to consideration.
The need for first-party data has never been clearer. First-party data allows you to communicate with a significant share of your customers without the need for a media intermediary and away from the company of other advertisers. 
Owned audiences, and the resulting first-party data, are built through individuals engaging with first-class content. Without content engagement, there's no data. You need to do this fast, because you are at risk of your competitors building first-party data on your customers and then luring them away.  Those marketers with a substantial owned audience are not worried about the Facebook boycott, or the risk of another media channel going dark for whatever reason. 
How to Approach Your Marketing Mix Reallocation
So this week, there is an important decision to make on your marketing mix and spend, assuming you don't just take the dollars to the bottom line. 
Here's one approach.
Ideally, you should include the CMO, each channel owner, the content leader, the brand leader, your media strategist and the person who is ultimately responsible for your company's reputation.
First, decide which side of the boycott your company wants to be on. As the number of advertisers in the boycott grows, this could become more of a decision on when, not if, you join the boycott. Today, it's 750 companies; last Thursday, it was 400.
With that decision made, you need to identify your budget allocation to Facebook, Instagram and other social channels and assess each channel's direct and indirect impact on ROI as you consider your options for reallocation. 
Your marketing mix models will act as a guide here, as well as your assessment of the relative shares of audience, engagement, actions, revenue and budget that each channel has provided in the past. Also consider which channels are likely to have the most elasticity to continue or even improve on that performance.
Doubling down on your owned channel investment could well have the smallest budget impact but the largest business impact. Ready to make a decision with your team? 
Here's a sample agenda for your discussion:
Update on Social Boycott
Opportunity for Budget Reallocation
Owned Channel Analysis vs. Other Channels
Share of Audience
Share of Engagement
Share of Revenue
Share of Budget
Have a good meeting.