The year is 2013. Triumphant underdog Oreo has just won Super Bowl XLVII … from a content perspective, of course. If you've worked in content marketing and social media in the past decade, you're probably familiar with this example as one of the best real-time marketing efforts we've seen from a major brand. Oreo's "you can still dunk in the dark" tweet, posted 10 minutes into the massive power outage during the game, enabled the brand in a savvy and timely way to tap into the zeitgeist and attain one of the most coveted marketing outcomes outside of ROI: brand relevance.
Maybe you've chased this bit of marketing magic yourself. Depending on your industry, the channels where your brand engages and the marketing goals you've set out to accomplish, capitalizing on real-time marketing opportunities with timely and highly relevant content that captures a broader cultural theme or moment is no easy task. 
For Michigan Medicine, a fictional character's untimely demise on a hit TV show provided an unexpected opportunity to generate an "Oreo moment." 
Michigan Medicine is the academic medical center of the University of Michigan in Ann Arbor. It has been the site of many groundbreaking medical and technological advancements since the medical school opened in 1850. Still, unlike many other academic medical centers, it lacked a global or even national reputation. Even with an award-winning in-house video team and an extensive network of service-line marketers, communicators and educators, the material Michigan Medicine published didn't resonate with the intended audiences. The focus needed to narrow. 
Michigan Medicine established the goal to be recognized as a top-tier health system. Part of the strategy was to build a scalable and sustainable content marketing capability to position the organization as a highly reputable educator, innovative leader, local healthcare provider and community resource. In a world dominated by names that weren't theirs, Michigan Medicine had to think outside the box. Manifest was selected as the content marketing agency to bring expertise and speed to the assignment.
The Heartbeat of Our Work 
We built a content strategy to better engage two distinct audiences: consumers in Michigan and nationwide, who relied on Michigan Medicine as a healthcare provider and wellness expert, and healthcare professionals and medical students looking to Michigan Medicine as a global thought leader in medical research and healthcare innovation. 
Together with Michigan Medicine's marketing leadership, we augmented and supported the efforts of internal stakeholders. The team was led by a content strategist and supported by performance marketers, engagement managers, data analysts and project managers. This tailor-fit team supported Michigan's robust internal communications and content creation capabilities and powered a strategy to engage, activate and acquire these two target audiences.
This Is Our Oreo Moment
In a February 2018 episode of This Is Us on NBC, the character Jack Pearson suffered a "widowmaker" heart attack. Right away, we noticed an immediate uptick in social conversations and a spike in search traffic on the cardiac event (a type of heart attack involving 100 percent blockage in a specific artery). 
The team worked to write, edit, illustrate and publish a story featuring consumer-friendly widowmaker facts and preventive tips from a Michigan Medicine cardiologist the same week that Pearson's TV passing was revealed. We highlighted widowmaker risk factors, symptoms and treatment options. At the same time, the topic was fresh in viewers' minds. 
Within days, our blog post appeared among and outranked widowmaker efforts from national media companies at Time, WebMD and U.S. News & World Report.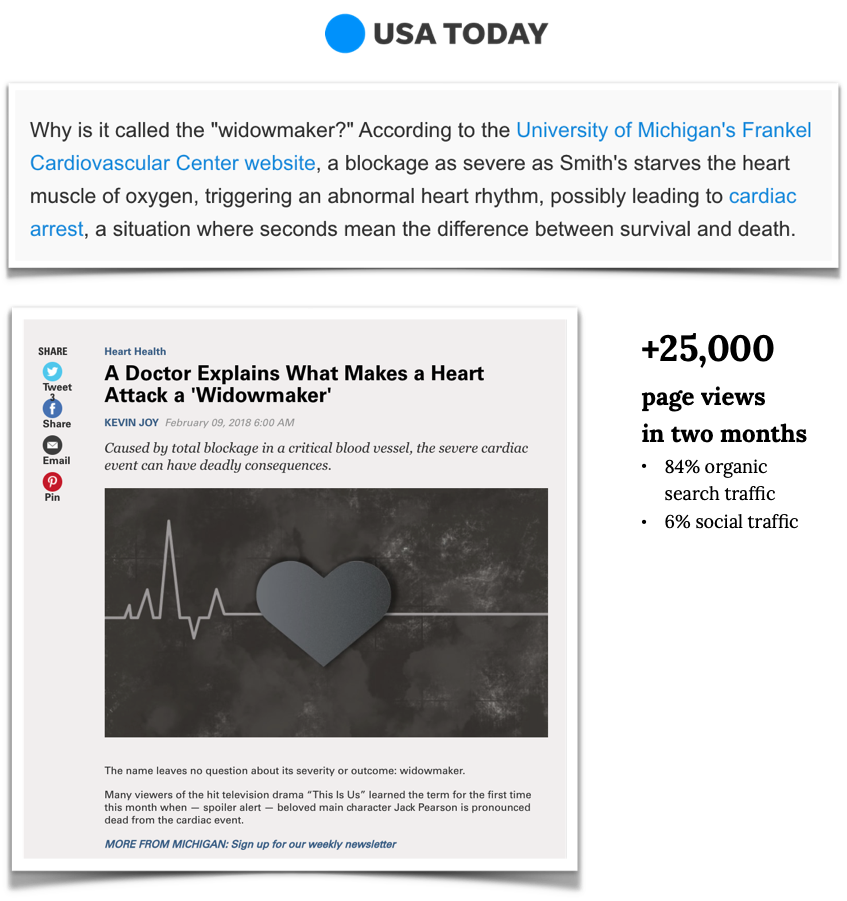 This was just one example from a content machine that led to 526 percent growth in organic search, with 3.2 times the social engagement rates of Michigan Medicine's peer group. We published more than 1,500 pieces of content and featured nearly 1,000 Michigan Medicine experts. In 2018 alone, the clinician-focused Michigan Health Lab blog had 1.4 million visits, and our consumer-focused Michigan Health blog had 2.5 million visits. Compare that with a year earlier, and our site traffic had nearly doubled for Lab (728,000) and more than tripled for Health (700,000).
Most important, Michigan Medicine's reputation significantly improved, with its U.S. News & World Report rankings rising in multiple categories. 
As other health systems work to establish their content strategies to meet local, regional and national goals, they can draw on lessons from the early adopters in the content area. Our senior editor, Kevin Joy, and Associate Creative Director Donna Behen compiled four key dimensions of an effective content strategy, based on their firsthand lessons with Michigan Medicine:
1. Goals and objectives 
A clear and single-minded goal guided our editorial strategy and work: reputation boosting. Michigan Medicine already had a top-notch record, and many of its specialty departments have long waiting lists. Michigan was not looking to support a "heads in beds" strategy. So we took every opportunity to showcase its acclaimed faculty and research via engaging, high-quality content—both on our clinician-focused and consumer blogs—in support of this goal. 
Implication: Be clear on your goals and objectives before you launch your content efforts. Referrals, recruitment and reputation lead to different content approaches, both locally and nationally.
2. Trending and human content outperform
Michigan paid special attention to developing a point of view on important and trending events, such as legalized marijuana's effects on ER patient traffic, the race to advance pancreatic cancer treatment and the debate surrounding "over-screening" for disease in low-risk patients. For patients, how-to consumer stories put the faces of Michigan providers front and center (see "A Radiologist Explains What to Expect at Your First Mammogram" and "How a Pediatrician Helps Her Family Eat Healthfully at Home"). This served to humanize the healthcare experience.
Implication: Convince your high-profile and media-savvy clinicians, staff and researchers to participate in interviews and content development. Make the process pleasant and easy for them. All Michigan stories were OK'd by participants before publishing to ensure that messaging was accurate and on-brand. 
3. Snackable, visual and digestible content works for professionals and patients
For Michigan Health Lab, the more effort we used to create concise, visual and digestible content, the more we were rewarded with higher engagement rates. We communicated new research developments and trends in an appealing and easy-to-digest format that speaks to the needs of busy clinicians. The content became a conduit for readers to dive into a more extensive study. We had strong response and traffic for a "listicle" piece celebrating nurses at Michigan Medicine's C.S. Mott Children's Hospital, as well as a step-by-step photo journey of a young patient's complex surgery. The consumer blog homepage also featured a quiz function for users to test their knowledge about wellness topics covered on the site.
Implication: Doctors are consumers too. Being technical is OK, but respect the reader's time by showcasing clean, readable content that he or she can digest in a reasonable amount of time. Don't be afraid to pursue bold visual ideas—they're the ones the reader will remember.
4. Strategic content efforts will boost recruitment goals 
One audience the Lab blog focused on was incoming and current medical students. We dealt with a number of highly current and essential topics—med student depression, an effort to recruit more doctors with disabilities and demystifying the application process, among others.
Implication: Healthcare is inherently human. Show off the people who deliver it (and the patients receiving it) to amplify your system's strengths and to build relationships with readers, especially job candidates, who will think positively about your organization. 
Having a good content strategy that leaves room for serendipity takes time, effort and big ideas. Investing in a team that can build, analyze and optimize your plan is essential for health systems creating content in today's overcrowded landscape. In our time working with Michigan Medicine, we created a visible content footprint that set the brand apart from its competitors. Get in front of your health system's content strategy now.
Contact David.Brown@manifest.com to learn more.