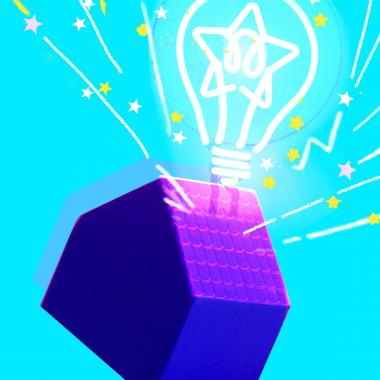 The Association of National Advertisers recently issued its report on managing in-house creative content, based on feedback from 111 marketers. This report was completed to support the 78 percent of marketers who have an in-house agency team. The report highlights four important concerns that need fixing.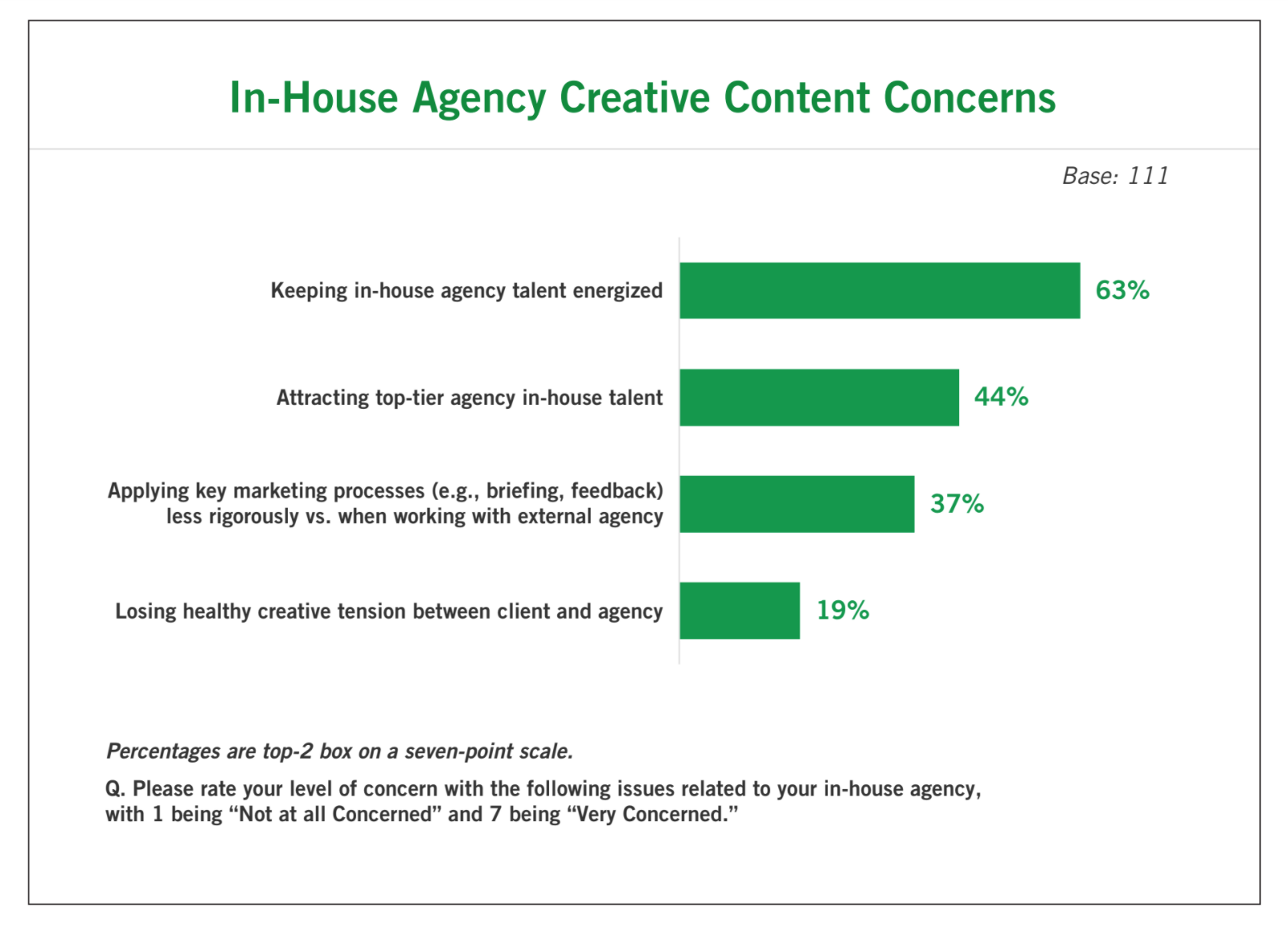 Here's a snapshot of each concern, with some suggestions from Manifest:
1. Keeping In-House Agency Talent Energized
This is the top issue. Without energy, work quality suffers and talent attrition accelerates. This issue is exacerbated if the team is not based in a major city that would have its own attractions. Marketers have a number of approaches to create more energy:
Provide new challenges, perhaps from different internal clients.
Showcase the team's work to give credit and feedback.
Create stretch projects that involve new skills.
Use training to sharpen skills.
Invite external speakers and external agency partners to present the latest thinking.
Manifest point of view: Personal growth and career paths are important to define and demonstrate that in-house agency talent hasn't been hired only for a short-term assignment. Compensation should grow as responsibilities and performance grow. Learning and development should be a purposeful routine. Make sure the best work is entered into creative awards. AARP recently made a strong showing in the 2020 Content Marketing Awards, including several wins. I  suspect the AARP creative teams were energized by that news.
2. Attracting Top-Tier Talent
Attracting top-tier talent is hard because agency executives are well compensated, and they enjoy working in an array of industries in both pitch and client settings. Smaller in-house teams make assignment variety and career pathing harder to get to. Marketers can respond in several ways:
Explain the higher chance of work being produced because of the proximity to approvers.
Place virtual teams in larger cities, not necessarily in the home office.
Be sure to explain total compensation and better job security.
Consider branding the internal creative team with an agency-like name to nurture its own identity and culture, connected to yet distinct from the mother ship.
Manifest point of view: Industry-recognized and award-winning talent brings legitimacy and credibility to the internal agency. This is why the likes of Apple, Facebook, IBM and Allstate have hired renowned creative leaders. Find these leaders, and other talent will follow. Talent attracts talent. Consider the talent recruiter an important member of the team, dedicated to the constant pursuit of top-tier talent. The recruiter and managers should explain the fulfillment that comes from working in depth on a single assignment rather than working on a lot of assignments in a shallow way. While compensation may be less, the income per hour may actually be more. And for companies with many offices across the U.S. and the world, the opportunity to travel and work in new markets on exchange is compelling to many who are not tied to one location.
3. Gaps in Key Marketing Processes
Marketers' processes normally do not go as far as external agency delivery processes. The marketer handoff is a brief that connects the business and brand strategy to inspire communications strategies and tactics. That leads to gaps where marketers have to bridge and deliver the work. Marketers have used this as an opportunity to:
Define consistent processes that work for both internal and external teams.
Establish a brief format that is inspiring, concise and not cumbersome.
Focus on deliverables so you get what you need.
Manifest point of view: Well-written briefs are the cornerstone of great work, and creating them is a skill that can be taught and constantly improved. There should be project management support to both define and manage workflow, so that creative people can do what they do best: Create work rather than manage workflow. That support may be human, or it may be tools. Ideally, the analytics team and creative team should sit together to allow constant improvement of work that comes from the analysis of content performance.
4. Losing Healthy Creative Tension Between Agency and Client
Ensuring that there is creative tension was important for some respondents. This is hard to replicate in an internal team, where the marketing leader may be more senior than the creative teams and may be in their direct reporting line. This can lead to a lack of risk-taking and honesty in creative development and reviews. Here are some ideas to change that:
Hire a diverse group of creative executives with a range of skills, demographics, points of view and seniority levels.
Ensure there is a creative leader at the same level as the marketing leader. 
Leverage external agency partners to critique work created internally.
Solicit input from all stakeholders, not just the line management. Often the consumer insights, legal and corporate communications teams can make the work better.
Manifest point of view: View tension as an opportunity, not a problem. Ensure the culture allows for different points of view at all levels. The best agencies have a disruptive streak in their DNA that allows truly creative ideas to be developed and to survive the approval process. 
Overall, the case for in-house agency teams is compelling—closer to the audience insights, closer to the brand and business strategy, and apparently more affordable. However, it can be hard to scale in-house teams quickly, and even if you could, you may not want to.
The case for a hybrid internal and external agency team is strong so you get the best of both worlds.
Some roles and functions are harder to sustain internally: more conceptual creative work, richer content types, enterprise content strategy, advanced analytics and innovation. These are the types of work that an external partner can help support in a hybrid model. 
Whether resources are internal or external isn't as important as bringing all key disciplines to the table, including content creators, engagement and performance experts, and analysts.
This team construct will encourage experimentation to find out what works and build on success in real time. 
The team structure would work both internally and externally, so it can be scaled. In the highest-performing content teams with involvement from in-house and external agencies, sometimes it is hard to determine who works for whom. 
At Manifest, we call this structure the Audience Engine. Comprising data science, creative, account management, engagement management and performance marketing, the Audience Engine encourages interdisciplinary collaboration, as everyone is accountable to performance instead of discipline, agency or client.
Ultimately, it should not matter whether talent sits internally or externally. What is clear is that everyone is working to fill audience needs.
If you would like the full report, please click here.