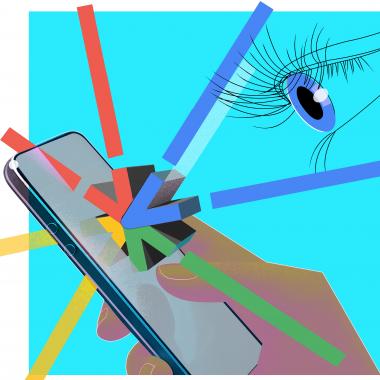 Google Discover is a curated collection of content, driven by artificial intelligence and based on past searches, browsing history and content engagement, that allows users to find information and inspiration without typing in a query. It's available when you use Chrome on your mobile device.
In addition to recommending content that reflects a user's interests, Google Discover leverages the Topic Layer of the Knowledge Graph to understand how interest can develop over time as familiarity and expertise grow, and it adjusts content accordingly. According to a Think with Google study, nearly 60 percent of people have discovered their favorite brands while scrolling through feeds.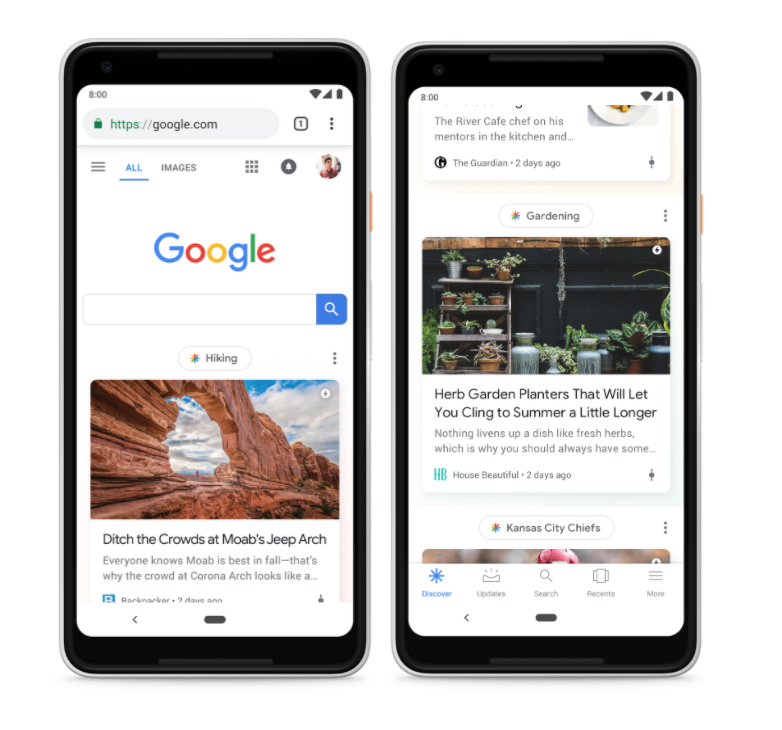 Google Discover presents an additional opportunity for brands to introduce themselves (and their content) to audiences that are more likely to engage, even though they are not actively looking for them. Once that traffic is on-site, brands can drive future engagement with these users through retargeting or, even better, first-party data capture. 
But how do you get your content in front of audiences scrolling through Google Discover? 
Certainly, you can use Discovery ads to drive more website visits or reach new customers with your content, but here are a few considerations that content marketers and SEO teams should consider to encourage content to appear organically:
How do content marketers and SEO teams optimize for Google Discover? 
Because AI drives Google Discover, there is not a new optimization strategy that brands should deploy to gain visibility in the Google Discover feed. There are, however, some best practices that help increase your chances of engaging with your audience via Google Discover. 
1. Produce authoritative, high-quality content. It should not come as a surprise that Google Discover, much like Google Search, values high-quality, authoritative content. In July, the Google Discover help document was updated with references to E-A-T: expertise, authoritativeness and trustworthiness. In the document, Google states:
Our automated systems surface content in Discover from sites that have many individual pages that demonstrate expertise, authoritativeness and trustworthiness (E-A-T). Those looking to improve E-A-T can consider some of the same questions we encourage site owners to consider for Search. While Search and Discover are different, the overall principles for E-A-T as it applies to content within them are similar.
To encourage Google's AI to recommend your content via Discover, create data-driven content that is highly informative, leverages current data and statistics, is based around long-tail keywords, and considers the niche connections your brand has to your audience's interests. 
2. Create a mix of content types. When developing your content strategy, there are three types of content that Discover tends to gravitate toward: evergreen content, news content and video content. Consider creating a mix of evergreen and news content, as Google Discover's AI uses full-coverage technology to bring a variety of perspectives on the latest news while also recommending "new to you" evergreen content on topics users are interested in. 
3. Optimize your visuals. High-quality visuals are a must for Google Discover consideration. Make sure you use images that are at least 1200 pixels wide, and be sure to give your images a descriptive file name and caption. And of course, don't forget to optimize your image alt tags. You may also want to embed illustrative graphics and video throughout your content to increase user interaction rates.
4. Don't forget about technical SEO. Because users access Google Discover via a mobile device, your content must be mobile-friendly and fast. There is a correlation between accelerated mobile pages (AMP) and Google Discover visibility, so although AMP pages will no longer be required for Top Stories Carousel placement in 2021, publishers that want to appear attractive to the Discover feed should continue to prioritize AMP optimization as part of their strategies. At Manifest, we have also seen a correlation between Google Discover visibility and sites without AMP pages when they have a properly applied schema markup. 
5. Amplify content to encourage engagement. The more someone engages with your content, the stronger the signals that person will send to Google's AI that it should consider your content for inclusion in Discover. Encourage engagement with your content through promotion in your email newsletter, via paid channels and on social media. Also consider using retargeting to bring users back to additional pieces of content within your ecosystem. The more someone interacts with your content and brand, the greater the likelihood that you will appear in his or her Discover feed. 
6. Don't underestimate the value of a shameless plug. Although Google's AI recommends content that it thinks people will be interested in, Google Discover is also fully customizable by the user. Encourage your community members to add you to their Discover feeds by following your brand's topic. 
What is the opportunity for content marketers? 
Google Discover feeds feature a mix of content types, from news to evergreen to highly engaging visual content. Content marketers should consider these content types when trying to achieve visibility within the Discover feed. This is also an opportunity to lean into visual and interactive forms of content. Consider identifying your best-performing blog content, then creating compelling video content from those pieces.
Additionally, because Google Discover is great for niche interests and topics, brands should identify the intersections between themselves and their audiences' niche interests, as these will be new opportunities to reach small subsegments of the wider audience through hyper-targeted content, informed by long-tail searches. 
Within our CDW program, we recently saw success in Google Discover with our HealthTech Magazine story "This Old Tech: Why Manual Blood Pressure Monitors Still Play a Role in Healthcare," which appeals to our IT business decision-maker audience's niche interest in the history and evolution of technology. 
Finally, seek to identify the areas where your brand has the expertise, authority and trust to offer its unique point of view on newsworthy topics. Over the past few months, we have partnered with CDW to create content about virtual learning and technology for EdTech Magazine. Topics such as how to set up a virtual classroom, how to keep cyber shenanigans under control and keep students engaged, and even how technology can help facilitate school reopenings all offer CDW's expertise and advice on topics that are dominating the headlines and as such have seen strong visibility within the Google Discover feed. 
In closing, Google Discover presents another opportunity for branded content to appear in front of audiences. By following these tips, you can improve your odds of appearing within the Discover feed. If you'd like to learn more about how we help our clients optimize their content's organic visibility, please email David.Brown@manifest.com.