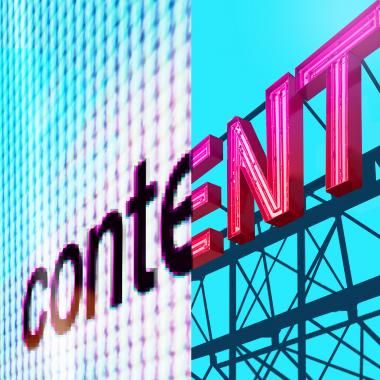 After Picasso's help last week assessing the strategic opportunity in scaling your content program, the paint now meets the canvas in operationalizing your content efforts.
Typically, the conversation around scaling content efforts centers on technology. Often viewed as the panacea for all scalability challenges, technology is but one component in a winning formula, which must include a balanced approach to planning, process and platforms. 
Planning with High-Impact Purpose
If you're considering scaling your operation, you've probably invested substantial time and resources in setting up and pressure-testing your content strategy. Transitioning that winning strategy to a higher-volume operation requires you to make an intentional connection between your audience journey and your tactical planning. 
This strong connection can sometimes be mistaken for templatizing your content output. However, when done right, it should prompt an analysis of where you want to place your bets by topic, content type and stage of the customer journey. It will also allow greater control over the impact of your content, level of effort and costs.
Analyzing your top-performing content, or the 5 percent of content that drives 90 percent of engagement, is the most impactful first step toward scalability. Understanding which topics, content types and stages of the customer journey are driving your current success will allow you to reinvest effort away from what's not needed and toward an increased, higher-performing content output. Understanding content-type performance versus topics will allow you to rank them by potential impact and the level of effort required to complete them.
Once you have your rankings, sort your content types into low-, medium- and high-impact categories. Focus your efforts on medium and high impact. You can revisit the low-impact group later.
Medium-Impact Content

High-Impact Content

Prepare the strategic rationale—no creative brief needed!

Brainstorm ideas in bulk at a preferred and predefined cadence that aligns with your measurement framework.

Create a network of strategic, low-cost  contributors so the core teams and budget can be leveraged toward high-impact content.

Develop a bank of structural multichannel deliverables that can easily plug into creative briefs to reduce time spent on planning.

Create a network of subject matter experts, both writers and sources.

Require templates for any new content types to allow for repeat usage at a lower cost, shifting effort to the storytelling and creative.
The Process: Understand How Work Gets Done
Scaling your content efforts will take a more refined process than the one you use today. You probably have a few dedicated people inside your content operation. You borrow people from other departments part time, and you have some trusted freelancers or even an agency supporting you. Your toolkit is probably homegrown and stretched to its limit. You probably have a good idea of what's working well and what consistently breaks down, causing delays or cost overruns.
Map out your workflow from strategy development to tactical implementation and confirm how the work gets done:
What documents are used consistently (briefs, calendars, work orders, reports)?
Who touches the work at each stage: designers, creators, reviewers, approvers?
How do you systematically stay up to date with customer insights?
How do you develop improvement opportunities to test?
How do you decide what content types to develop?
How do you manage your budget?
How do you measure and evangelize success?
How do you integrate with other parts of the business?
How do you share knowledge, both within and outside of the content team?
In larger organizations with decentralized content teams, you will have multiple and competing answers to these questions. For you, the opportunity is to create some form of central content team to standardize around governance, policy and best practices and to reduce duplication of effort. There should be a playbook for how work gets done. You will probably want to be responsible for content that cuts across multiple products or lines of business.
In smaller organizations, you will have some processes that are instinctive but not documented. For you, the opportunity is to document how work gets done, so others can join the fun and help you grow.
Remember that small changes in approach can have a significant effect on content consumption. Sage recently made a simple change to its content navigation that led to a doubling of pages/visits without any increase in content development output. Here's the before ...

And the after that worked twice as well, simply by removing the illustrations and establishing more detailed blog categories ...

For both small and large organizations considering a scale-up, the approach to project and task management creates opportunities for efficiencies that can be reinvested in scale and production quality. Here are some signs that you need project management expertise to fuel scale:
Important content work begins development without a written brief.
Content consistently goes through more than three rounds of review.
Content creators regularly spend more than an hour a day in meetings talking about the work rather than doing the work.
The same piece of content is unknowingly created more than once in different parts of the business.
Utilization rates are neither tracked nor understood by department heads.
It's hard to know who has availability to work on a new assignment.
As you define how work gets done, there should be a regular approach to improving the journey, refining the steps and becoming more efficient overall. Remember that content quality rarely improves from more hands touching it.
The Platforms to Help You Scale
As soon as you start creating content on a weekly or daily basis, you will quickly lose track of the content you have already created, making it even more challenging to decide what to serve up at each stage of the customer journey.
This is where technology can help across the four main operational areas of content: creation, management, distribution and measurement. There are few technology platforms that are best in breed across all areas, so you will need to evaluate your options: picking a best-in-breed point solution or a more holistic solution that may sacrifice an edge in an area or two.
This illustration shows a typical infrastructure for a marketer with complex content efforts.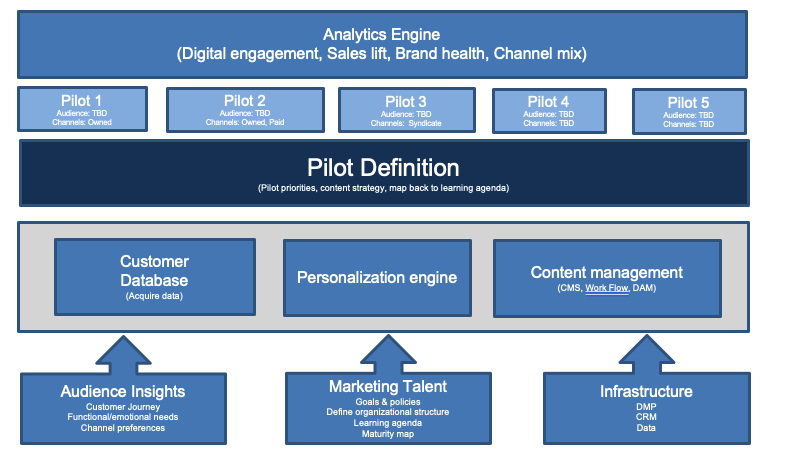 The customer database, content management system and data management platforms are now well understood and increasingly commoditized. The areas that are harder to grasp are around workflow, personalization and measurement.
Here's a snapshot of the opportunity and software as a service players in each category that are worth considering as you scale:
Workflow tools automate the review process, enabling comments and versions to be managed in real time, with alerts going to each reviewer to complete his or her tasks. Editorial calendar tools provide visibility into the work that's being created across the organization, cutting down on any duplication. 
Players: Divvy, Opal, NewsCred, Percolate, Workfront
Personalization, whether to a segment or an individual, leads to higher levels of relevance as content decisions move from humans to machines. In our experience, machines have never beaten human decision-making.
Each technology vendor claims to work either broadly or at a point in the personalization spectrum. Here are the most critical functions and capabilities a personalization platform needs to be effective:
Artificial intelligence capabilities: Some level of machine learning is necessary, but the most robust platforms leverage natural language processing to create a deep content-based use case (such as deeper engagement with long-form content).
Content specialty: Some solutions refer to "content" as images, buttons and copy on the website. Some might refer to articles and white papers. And others might refer to content more broadly as products and offers. Be sure to understand which content type the vendor is talking about and whether it's appropriate for your use case.
Personalization methodology: As more brands invest in personalization, many are confusing it with segmentation. There are many types of content personalization, but it's important to make sure your definition and personalization strategy align with the type the technology vendor delivers.
Data sophistication: Because personalization relies on customer data, make sure you understand which data the vendor is using to make decisions. For example, is your vendor taking in your data, third-party data or creating its own as users engage? Is the vendor open to incorporating the data you have, or does it want to power your personalization initiative?
Players: Acquia Lift, Ideo, OneSpot, Adobe
Measurement is the Achilles heel of the content arena—but it's the most important to master and operationalize as you scale your content efforts. Google Analytics is a low-cost approach to measurement, but its significant flaw is that it reports on page performance, not the content on that page. 
It will be important to have a quantitative measure of content quality and performance, defined in a way that the whole team understands. And content engagement needs to be connected to more important marketing metrics, such as brand health and conversion to sale. This is a full-time assignment, so the most progressive content operations have analytics experts at the heart of the content team rather than in a satellite. 
In fact, if you are scaling your content operation, the line item that will grow the most is measurement. Remember, the goal behind scaling your content efforts is to scale results, not necessarily content.
Players: Google Analytics, Knotch, Adobe Analytics
Lastly, as you scale your content efforts and ask your content to work for different audiences at different stages of the customer journey, your content assets will grow. The pursuit of distinctive content should become an important goal for brand and content teams alike. In fact, the opportunity exists for content codes to emerge that are immediately recognizable when a viewer sees content, in the same way that brand codes are seen and understood.
To learn more about how we've helped our clients successfully scale and produce award-winning content, please reach out to David.Brown@manifest.com.