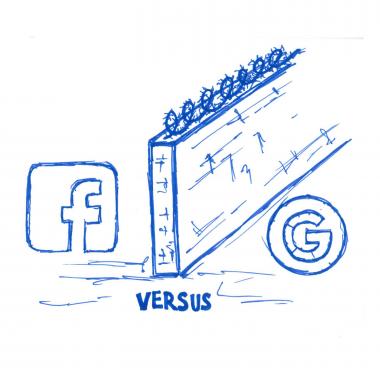 There's a war on the internet for the hearts, minds, eyeballs and dollars of valuable users and customers. Have you noticed it?
Facebook and Google are going head-to-head as brands continue to escalate and elevate how they use social media platforms for B2B marketing.
The "fake news" virus that has plagued Facebook's news feed over the last few years has dealt a serious blow to the legitimacy and viability of the platform. Wired ran a fascinating long read on the toll this problem has taken on the social media heavyweight, and advertisers and publishers alike are grappling with whether Facebook is friend or foe.
At the heart of this push and pull with the platform is something that has been at the center of an existential question for brands, marketers and publishers: What role does social play in media and communications?
Initially, social media was merely a distribution platform. Now it has evolved into a compelling advertising, storytelling and engagement tool for brands in its own right.
Internecine Battles
Yet despite the drumbeat of privacy and security issues surrounding Facebook, the platform has continued to come for YouTube's lunch money by aggressively attempting to ramp up its video capabilities.
This prompted a bit of back-and-forth between YouTube and Facebook—even leading YouTube CEO Susan Wojcicki to hit Facebook with the snarky suggestion that the social media network "get back to baby pictures and sharing."
Meanwhile, Google isn't relying on YouTube as the only weapon it deploys to take on Facebook. Its Accelerated Mobile Pages (AMP) Project, which has transformed the mobile content experience on its search engine, has expanded its footprint with AMP stories, which mimic the style and presentation of Snapchat's and Instagram's story formats.
Not to be outdone, Facebook added stories too, and it allows easy navigation between Facebook and Instagram.
Storytelling White Space
What does this jockeying between Google and Facebook mean for marketers? Clearly, the future of social and digital media use by brands as part of a content marketing strategy remains far from defined.
The continuing evolution of these two major platforms—with multiple social offerings each—creates opportunities to pioneer, experiment and break new ground in reaching, interacting with and moving audiences through high-quality content. The best practices for content marketing will be the ones we invent and confirm.