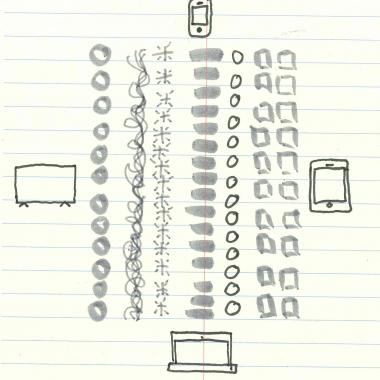 The seismic changes underway in marketing are akin to the transformation of manufacturing during the Industrial Revolution.
But unlike manufacturers, we do not produce widgets. We produce ideas that take many shapes and forms, all intended to motivate skeptical audiences to act—to use a service, to buy a product, to be a part of something.
A chief change is the shift from specialist agencies to multichannel experts. In the mid-'90s, the agency world went through its first major transformation: An industry dominated by large institutional names shifted from general agencies to specialty shops and gave birth to a significant expansion in the marketplace.
Suddenly the market was flooded with media agencies, digital agencies and the like, joining existing specialty shops for direct mail and custom publishing. This specialization continued well into the 2000s and saw the birth of social agencies, user experience shops and many other highly focused marketing businesses.
There were benefits. The client preference for specialty shops provided an emphasis on craftsmanship and optimal performance within specific channels. It also laid the groundwork for the understanding and use of user journeys and customer segmentation as a means to determine budget allocation and measurement criteria.
But there was also a downside. The responsibility of managing several agencies in a coordinated fashion to deliver on a single campaign fell largely on a brand's marketing department.
Course Correction
Fast forward to today's fragmented multichannel world, one in which three generations (millennials, Gen Xers and baby boomers) consume media and marketing in vastly different ways. The responsibility of managing multiple specialty agencies has quickly become too much for most marketers.
"Does the agency consolidation trend mean clients are giving up on specialists? Quite the contrary."
As a prescient Brad Jakeman, the former PepsiCo Global Beverage Group president, put it a couple of years ago: "As content and distribution platforms become more interdependent on each other, the concept of a media agency, a creative agency (and others) will once again merge."
He went on to say that the old model worked back in the day because we only generated a few large pieces of content a year and took eight months to create them. Those numbers have shifted to 4,000 pieces that are each crafted within eight days—sometimes within eight hours—to produce work that performs.
This reality created too large a burden for clients managing multiple agencies. When we first meet with potential clients, they often cite agency consolidation as one of the chief reasons they're reviewing their marketing approaches.
Whither the Specialists?
Does the agency consolidation trend mean clients are giving up on specialists? Quite the contrary.
Instead, clients are demanding the same expertise provided by multiple specialists from a single provider and across the entire paradigm.
Proof of this demand for expertise across the development spectrum can be seen in the expansion of consultancies and social platforms into the agency space. Bringing forth tremendous channel or sector expertise, such outlets leverage their authority to take responsibility from start to finish (inclusive of strategy, creative development, production and distribution) on work ranging from campaign level to client ownership.
At Manifest, we've also embraced this trend, no longer thinking of ourselves as a single entity but instead as an entity made up of several specialty modules (agencies within an agency). As client needs come in and we help define requirements, we dispatch different modules as teams to provide expertise for single initiatives.
While this model is just one approach, one thing is certain: The multichannel agency trend is not going away. With the creation of hundreds of new social and digital platforms annually, it's really just beginning.