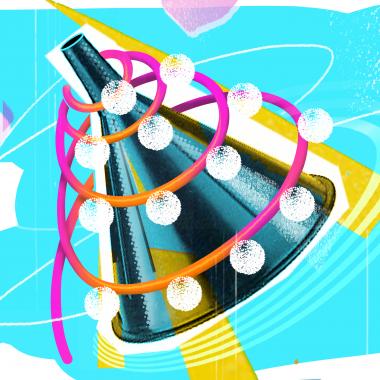 In March, while working from home, I set out on a DIY project installing bistro lights across my garden patio. Known for having few DIY skills, I started to research the options. 
Helpful content sources emerged across Lowe's, Home Depot, Amazon and from individuals who were sharing their knowledge. I wanted to be inspired, and get to the right products for the project I had in mind.
I have a personal goal of reducing my repeat rate on DIY projects from two to closer to one—or said another way, to get it right the first time.
I found a blog post from Home Depot that really met my needs. It not only gave me an idiot-proof, step-by-step guide on how to install the lights, but it also connected me to the exact products for the project.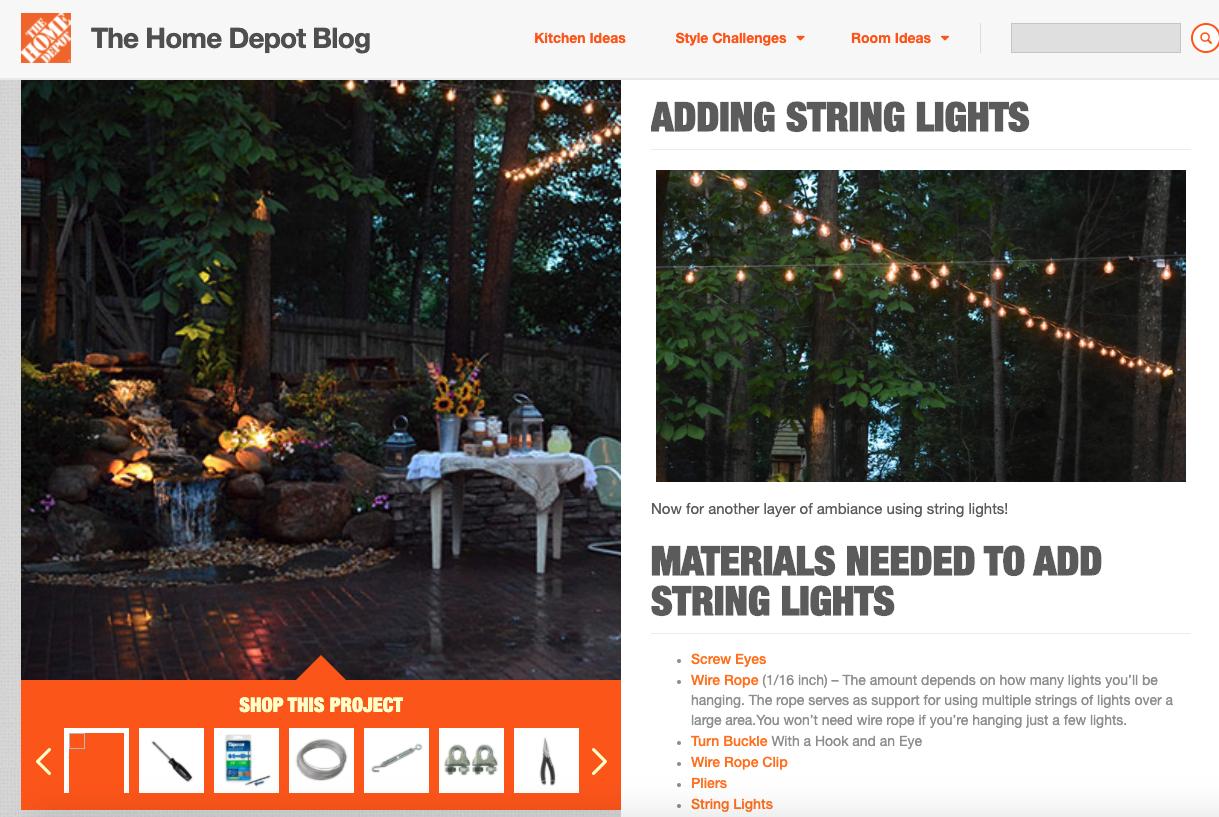 This blog post perfectly connected the inspiration and how to buy now. It accelerated me through the journey, and by the next week I had successfully crisscrossed my patio connecting the sides of my house to a tree, and even a 12-foot post with 50 pounds of cement as a foundation. If truth be told, I didn't dig deep enough.
Home Depot won my business because it successfully integrated products into the editorial inspiration, leaving no chance that this DIYer would pick the wrong products or sizes.
Inspiration Without Product Integration
In comparison, the Lowe's approach included inspiration but sent me straight to the category landing pages, without the prescriptive advice on what products were right for the project I had in mind.
So that now has me thinking about the broader lessons for marketers on how content can better connect to the purchase stage, the bottom-of-the-funnel stage, where often content marketers are not allowed to participate because the product teams want buyers to have the cleanest possible product experience that has been A/B tested to the nth degree. 
The Content Marketing Institute reported in 2018 that bottom-of-the-funnel activities were the least likely for content efforts to participate in, at 21 percent, versus 47 percent for the upper funnel.
To move forward, there's one fundamental question to think about that may inspire your bottom-of-the-funnel efforts.
What can your brand offer to answer, excite and reassure that your audience would truly value as they consider buying your product or service?
As your prospects get closer to purchase in their journey with your brand, they will have a different set of needs and questions than when they were first aware of your category and their options. It's critically important that you understand these needs, whether they be functional or emotional, as you consider how content efforts can help at the purchase stage. This should go well beyond product promotion or pricing to encourage the purchase
Product Recommendations: 
Your prospects' content engagement earlier in the journey can inspire relevant product recommendations. Each time your audience engages with content, they are sending you a signal of what they are interested in buying. Use this information to inspire your personalization engines to deliver product recommendations. The content that sends you good signals is higher-quality content.
MVT Content:
Some of your content will be better than others in driving your most valuable tasks (MVTs), whether it be registration with email, ask for quote, click on where to buy or find your nearest location. The content that drives these MVTs better than others is your top-performing content, and you should ensure that it receives its unfair share of views. Make sure that your content intelligence teams are shining a light on the content that is strong at driving MVTs. Give that content a name, like Active Content, so teams understand the role that it is good at.
User-Generated Content: 
Customer reviews and testimonials are a wonderful way to reinforce key messaging in the voice of the customer, rather than the voice of the brand. It's even better when user reviews reveal honest improvement opportunities; this brings credibility to the review process, and prospects will not see reviews as a controlled area. Content teams should be responsible for the review process and soft curation.
Amazon Product Descriptions: 
For those of you working with Amazon, pay special attention to the product description real estate, and use your SEO best practices to enhance discoverability and broaden the product story.
Thermos Content:
For products with longer consideration sets, use content to keep your prospect warm (aka be a thermos) and engaged with the reasons why the product makes sense. For a car shopper who has asked for a quote and plans to buy in 30 days' time, a series of content-rich emails will probably hit the mark and help the shopper imagine himself with that car when he buys. This works especially well in business decision-making that can be drawn out over months and years.
How-To Content:
Whether you operate in food or financial services, healthcare or hospitality, DIY or beauty, never underestimate the inability of your prospect to make full use of your product. How-to content ensures that your prospect gets the most out of your product or service, and encourages early adoption. How-to content should be clear and simple. Spell it out, speak slowly and repeat. Imagine you are talking to customers in their second language.
As you consider how content can enrich and improve purchase rates, be methodical in your testing so you can understand the incremental improvements, or not, that may be achieved through content approaches around the purchase phase. Without this, ROI will be elusive.
Remember to put yourself in the minds of your prospects at this specific stage. Anticipate their needs and questions. Don't artificially separate product and content. The best answers will come from their combination.