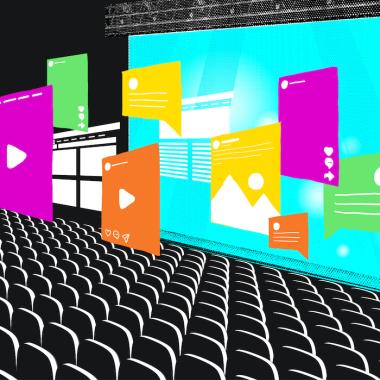 On the surface, good storytelling may not seem to have much in common with the razzle-dazzle of an in-person event. For one thing, the odds of encountering a confetti cannon while watching a video or reading an interesting article are low.
But both are a waypoint along a journey to deeper, more lasting engagement with customers and members of all stripes.
The throughline between events and content strategy has always been there, even if its veins weren't always exposed. Every keynoter, of course, tells a story, as does every booth in an expo hall. And strong content throughout the year might be the thing that convinces someone to make the trek to an event.
As an agency with roots in content, Manifest understands this synergy. With that in mind, we reached out to some of our partners for their perspectives on how content takes their events to the next level. Read on for their enlightening stories.
CDW: Content That Goes Beyond Selling Technology
Lots of technology sellers focus on the retail experience in their messaging. Not CDW, which has adopted a strong technology services focus, with the goal of showing how these innovations can transform businesses.
As the tech-themed AMC television series "Halt and Catch Fire" famously put it, "Computers aren't the thing. They're the thing that gets you to the thing."
Although CDW didn't come up with that line, that kind of thinking has long been a cornerstone of its content strategy, which is driven by its award-winning portfolio of tech magazines and websites. This approach extends into CDW's meetings strategy, which combines having a presence at partner conferences and hosting its own events.
CDW's content bleeds into its events calendar seamlessly, says Megan Morrison, who manages CDW's event strategy efforts.
"It doesn't really have a defined start and stop point, I think, if you're doing it right," she says. "It should all kind of feed into itself."
When done well, Morrison says, this strategy has the potential to create magical moments "where it's either unexpected or it really goes beyond the technology."
These moments often appear at CDW's proprietary events, such as the Executive SummIT Series. The events, which receive plenty of input through the brand's magazines and websites, bring a variety of voices onto the stage, including executives from major tech companies.
Morrison also points to the opportunities the events create for CDW's customers, such as the Chicago Bears and Seattle Children's Hospital, to share heartfelt success stories. "And then those stories get packaged up and shared through the tech mags and through social media. That always has really high engagement and results," she says.
Letese' Clark, a senior operations manager for Manifest, notes that CDW itself has participated in a testimonial-driven event. During a future-minded Executive SummIT last fall, CDW highlighted its perspective on long-term future-proofing.
"It was really nice to have that peek behind the curtain as to what CDW is doing to really think about the future," Clark says, adding that CDW's approach offered food for thought for its customers.
MSC: Amplifying a Brand Through Content
As any YouTube enthusiast who has seen a hydraulic press in action could tell you, metalworking offers a ton of opportunities for show and tell.
With that in mind, the industrial supplier MSC knows how to put its best foot forward for attendees on the trade-show floor. In recent years, however, it's found reach outside of the expo hall, thanks to a growing digital content strategy.
"We've found success in reaching larger audiences with both live and remote attendees, which is a new part for us," says Kathryn Murray, the digital marketing manager for MSC.
With appearances at the International Manufacturing Technology Show and the ASSP Annual Safety Conference and Expo, the company prepares heavily so that when everyone arrives in the convention center, MSC's event and content teams can hit the ground running.
"We want to make sure that we have content that tells our brand's story and why MSC is important to customers," Murray says.
By using a journalistic mindset, MSC can present its audience with event highlights that expand its line of sight beyond MSC's booth space. That, Murray says, has changed perceptions, emphasizing to customers that the company is trying to help them work more effectively. And that has benefits that can transcend the convention hall, she adds.
"We've probably reached a large audience who didn't know who we were before," Murray says. 
ASAE: Turning Content Into a Signal for Events
The line about the association space has long been that it's wide in length but narrow in focus—there's an association for everything, the saying goes.
And those associations have conferences—lots of them. The nonprofit sector represents a huge chunk of the nearly $100 billion in events held every year. And ASAE: The Center for Association Leadership has been setting the pace for this sector for years.
ASAE's last annual meeting, held in Nashville in August, drew nearly 5,000 attendees—an impressive comeback after the pandemic put the in-person event on pause.
But while meetings draw the most buzz, content is also a bedrock of ASAE's work, according to its chief marketing officer, Robb Lee.
"The importance of both of those components is that they provide different tools and methods to engage our speakers out there in our community," he says.
ASAE puts on highly targeted events throughout the year, including its Marketing, Membership & Communications Conference and its Technology Exploration Conference. But outside of meetings, ASAE reaches members through its flagship news site, Associations Now, and its online discussion forum, Collaborate.
Lee says his team uses inputs from these channels and others to shape programming for the association's meetings. Last year, for example, ASAE focused on booking keynoters and presenters who exemplified the "Disruption Equals Opportunity" tagline, reflecting the sector's ongoing recovery from the pandemic.
"We're trying our best to filter in all these various data inputs to make sure that when we get to the event, it feels cohesive," he says, adding: "At the beginning and end of the day, what we're all doing is trying to create an emotional connection with people and sustain it."
Make Content Work for Your Event
In a world where a face-to-face request is 34 times more impactful than an email, in-person meetings matter a lot. But there's still room to reach people who can't attend meetings through storytelling.
Admittedly, finding success in either of these channels doesn't happen by accident. Often, it requires work to build compelling content and event strategies, and that takes time, research and money.
It might also require you to look beyond the lens of sales. CDW's Morrison emphasizes to her keynoters that their presentations shouldn't sound pitchy. "People can Google that. They know what you sell," she says. "What don't they know, and how do we tell that story to make it really compelling?"
By building content that transcends the traditional trappings of sales, it turns your event—and your content—into something worth remembering.