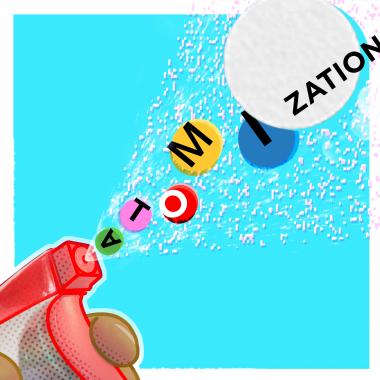 In a recent report from the Association of National Advertisers called "Growth and Opportunities in Content Marketing," the level of commitment to content marketing was shown to have doubled over the past two years, from 26 percent to 52 percent. And budgets are forecast to grow by nearly 150 percent from 2018 to 2022. But amazingly, only about a third of marketers have a documented content strategy — a number that has not changed for at least five years. 
Combine this with the important data point that only 5 percent of content generates 90 percent of engagement, and we can conclude that most marketers are taking a significant leap of faith. Budget increases will surely lead to more waste and more chaos in content experiences.
Making content effective is challenging, even cloudy, during a time when brands have many audiences, platforms and business objectives. Crafting unique content for each point in the customer journey feels daunting, especially when you need to operate efficiently and effectively. 
For Manifest, this is where content atomization comes in, challenging the notion that good, fast and effective is impossible. Content atomization is a much-needed tonic for these opportunities, and it allows marketers to build on high-performing content.
Atomization is traditionally defined as converting a substance into fine particles or droplets. By applying this science to content, we break content into smaller fragments to build multiple versions and content types. 
With content atomization, we reach the customer at multiple touch points with the same core piece of content adapted to the needs, wants and desires of the customer at that specific point. This dramatically improves the content's efficiency and effectiveness. 
What Does Content Atomization Look Like?
The Paper and Packaging Board's goal is to increase paper consumption among many audiences: Business Decision-Makers, Lifelong Learners and so-called Expressives, a segment of ambitious people looking to gain new knowledge and skills. 
To connect with Expressives, we developed a campaign called "Powered by Paper." The work took the point of view that in a digital world, using paper to learn was nothing short of revolutionary. Anchored by a 15-page placement in Mental Floss magazine, our campaign brought paper's benefits forward and embodied our philosophy: When learning matters, use paper.
To target Expressives, we atomized this campaign across the Mental Floss publication, through social activations and with digital banners calling on them to join the Powered by Paper revolution through education and interactions.
In the publication, we focused on long-form editorial, with calls to action to try a new way of writing notes or doodling for memory. 
On social media, we built formats that enticed in-channel engagement via polls, entertaining videos and quick tips. Each social post was unique to each channel, built for the Expressives' nuances.
For digital banners, we drove traffic to the website and encouraged engagement with the content. Retargeting and programmatic activations were key in staying in front of the Expressive audience.
We also created posters that live as digital downloads or tear-outs from the publication to provide a tangible reminder to use paper when building or strengthening new skills.
In total, this atomized campaign included:
15 pages of posters and articles within Mental Floss magazine
5 long-form articles, each based on audience nuances
5 digital banners driving back to the web articles
20 social media activations 
And the results? The Powered by Paper campaign was one of the most engaging topics during its campaign period. It drove 11 percent of total site engaged page views, had a 3.84 percent download rate on parts of the campaign that included a download and had a 1.29 percent social share rate.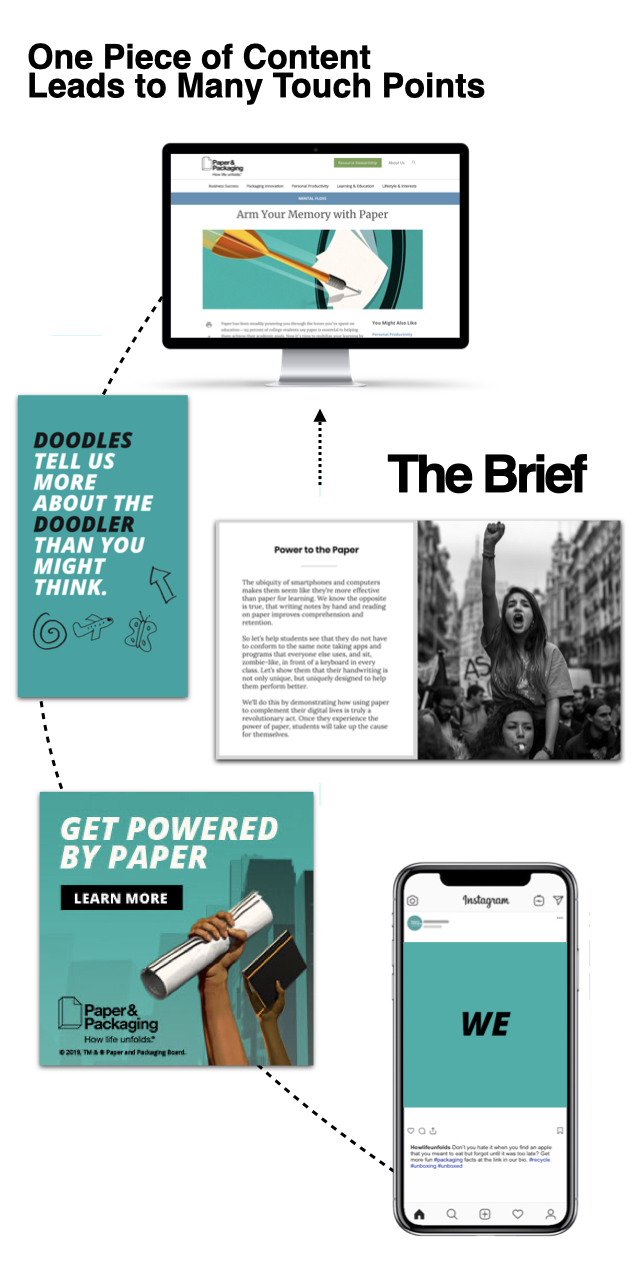 While the Powered by Paper campaign focused on content atomization across the print magazine, social and banners, atomization should be considered across all active channels. Depending on your marketing mix, this could include:
Podcasts
Video (YouTube/streaming)
Email marketing 
Landing pages
Virtual events
Interactive formats
Point of sale
Customer service channels
Product packaging
User guides
As for the idea that good, fast and effective is impossible? Content atomization says otherwise, through: 
Efficiency in resources: Many tactics and touch points can be built from the core content piece instead of using custom, one-off ideas and execution. Once the idea is formed, preplanning for audiences and channels is crucial to gaining efficiency.
Built-in amplification: While the core concept is positioned across multiple channels, each piece of atomized content is built for that specific audience, channel and objective. It makes audiences feel like you're everywhere in a very relevant way. 
How Do You Plan for Content Atomization?
Content atomization is a collaboration, whether it's in-house, in a brand-agency partnership or within an agency. The recent Association of National Advertisers survey calls out the need for collaboration: "Marketers are driving the process in most areas of content marketing, and are primarily responsible for strategy, technology, and measurement and analytics. Agencies have significant responsibility for development and production and distribution. However, collaborative efforts between marketers and agencies are still key."
Planning for content atomization should bring together the marketing, creative and intelligence teams. This includes strategists, content editors, designers, SEO technicians, social and paid media experts, and data analysts — in-house and agency-side. 
This team (which we call the Audience Engine here at Manifest) needs to define and empower the central idea so that as the pieces are atomized, everything is consistent at every touch point. 

The core team's tactical inputs include:
Social listening: Learn where audiences consume content, how they consume it actively or passively, and what themes are most important to them.
Audience intelligence: Understand how topics and ideas are positioned to be the most effective and relevant based on demographics, psychographics and motivations. 
Business analytics: Dive into where your audience is connecting and converting — or not. Is there an area you can build on or a hole to develop around? 
Platform optimizations: When planning for many touch points, the team must consider and balance audience information and how channels promote and prioritize content types to be as fruitful as possible. 
From there, build the roadmap upfront by outlining how the topic should look and feel at each stage and on every channel. Draft simple positioning post copy to further bring the idea to life. Walk through the various user experiences to help you time channel delivery (in just hours or over days). And look at it from the top to check cohesiveness. 
Measuring Content Atomization
Performance measurement is a regular frustration for marketers, specifically around attribution and proving ROI along with tracking. Check out our recent blog post to learn about our approach to measuring content's impact: Try These Modern Ways to Measure the Essential Impact of Content.
If you'd like to learn more about how we help our clients plan and measure content atomization, please email David.Brown@manifest.com.