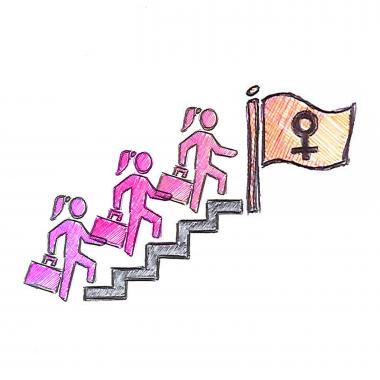 Three of Manifest's six top executives are women. In honor of their accomplishments and International Women's Day, we asked them about being leaders, mothers and mentors.
Q: Manifest's executive leadership team is half women. What's that like, and how does it compare to the industry as a whole?
Melissa Bouma, executive VP of performance marketing: It's incredibly important. In my last few agencies, I was the lone woman on the executive team. Our current leadership team represents a wide range of experience and perspective that sets Manifest apart creatively and operationally.
Laura Yoars, SVP portfolio consulting lead: Over the past 10 years, I've seen a progression of more women climb to leadership positions, both on the agency side and the client side. I've looked to these women for guidance, direction and encouragement. We still need to work on ethnic and racial diversity in addition to gender.
Liz Koman, chief marketing officer: The three of us are very different, but at the end of the day we are all moms. That's an unspoken bond.
Q: What are some of the challenges facing women in leadership?
Koman: For me, the greatest barrier is that we still lift the biggest part of the child care load. That weighs heavily on a mom, especially when you have a huge meeting and your kid wakes up sick. It's hard to focus when you feel you are needed most at home.
Yoars: Women need to prove themselves, while men are often given the benefit of the doubt. Confidence can be labeled as "aggressive," being direct can be considered "mean" and being decisive and forthright can be seen as "power-hungry." If we have passion and drive for our career, our roles as mothers come into question. I have been asked on an interview when I was a single parent, "How do you propose juggling motherhood and this job?" I told him, like most mothers, I have multitasking in my DNA—and I reminded him that he cannot ask me such questions.
All the while, we are paid less yet have to manage financial challenges such as child care—even more difficult if one is a single parent. And if women choose to leave the workforce while their kids are little, they miss a great deal of change and face new challenges coming back to work.
Q: How have you balanced being a mother and a professional?
Bouma: This has been difficult, but I think I'm finding my way. Manifest makes it easier with the flexibility to attend the events that I want to for my two boys and with my husband. My schedule reflects this: I'm in the office by 8-ish, but I almost always leave by 5 so that I can be home to play, have dinner and put the boys to bed. After they're asleep, I will pull out my laptop and finish whatever is needed—with a well-deserved glass of wine.
Yoars: A woman I respect highly, who has helped me immensely throughout my career, began as a secretary and worked her way up to become global CMO at a major agency. She was a single mother the entire time.
She told me there would be things I would miss with my son, but to put a stake in the ground—and never relent—for the few things I wouldn't miss. I have always told my boss and team what those are, such as a teacher conference or an open house.
Koman: I always hired the best child care I could possibly afford, and that helped me have to sacrifice and worry less about my son and daughter. My husband and/or I were always at school for the big things—no nanny will do for that. And most importantly, I was home for dinner together as often as possible.
Q: What will be the biggest challenge for the next generation of female leaders?
Bouma: It will be balancing our generation's work addiction, and the expectations that stem from that, with true work-life balance. It's also going to be embracing a sense of authenticity and not trying to present a perfect facade at work, the way we often see on social media.
Yoars: Many of the decisions remain in the hands of older white men. That goes well beyond our industry all the way to Capitol Hill. Despite the progress we are making, there are fundamental barriers being reinforced by the government that will keep the gender divide alive and well.
Our maternity leave and healthcare options are poor in comparison to many other countries. Also, rape culture continues to be accepted and it permeates our society.
Q: What advice would you give to women who want to be leaders?
Koman: You need to keep learning new skills at every turn. Staying comfortable for too long won't broaden your skill set enough to be valuable at the very top. And put your big-girl pants on. You have to be able to ask the tough questions and be blunt about truths.
Bouma: I often speak with women who are about to start families and worry about how they will balance it with their career. My advice is: It's not easy, but it's incredibly fulfilling and it will increase your leadership capacity.
These things happen one day, one week, one season at a time. Rather than worrying about the next five years, focus on the season of life that you're in. You'll be amazed how you will grow through it.
Q: What has you most excited about the future?
Bouma: Our company's growth trajectory and being able to be an active part of that while also watching my boys grow up—getting to do both at the same time.
Koman: On a personal level, I'm now an empty nester and I love it. My time is my own. I'm planning lots of fascinating travel and trying to cook more interestingly. Professionally, there's a lot to be excited about at Manifest. A year ago, I remember thinking, "If only we could" do X, Y or Z. Now, we've actually started doing some of those wishes, and I have no doubt we are on the right track forward.
Yoars: The thing that drives us in this industry remains pure and simple: the brilliance of a damn good idea. Nothing more. The agency lives and dies by the creative inspiration. Being near that magic is electrifying.