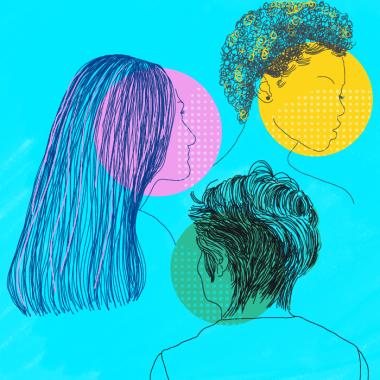 Best practices for makeup and skin care marketing have been around for a long time. Hair care is a slightly different story. For decades, the message has been some version of "get shiny, healthy hair." But with hair care needs being so segmented (natural hair, curly hair, gray hair, mature hair, shaved hair) and brands struggling to keep up with the demands of their consumers, the messaging has lagged behind the innovation. And that's what Manifest calls an opportunity! So, who is getting it right, and where is there opportunity for better communication? We talked to successful marketers and brand pioneers for their pointers … and offer up a few of our own.
Don't Be Afraid to Speak to Your Audience (Even if No One Else Has)
Just as there's more than one shade of skin and more than one body shape, there is more than one hair type (and color, for that matter). Yet for eons, there was only one look hair care brands seemed to speak to. Part of that stems from a lack of diversity and inclusion on the part of brands and marketers. Related to that, however, is simply clinging to old thinking. Take, for example, the over-40 market, which traditionally fell outside of the sweet spot of marketers' target audiences. 
"I knew from my time working in corporate that there was a tremendous white space: Ninety percent of research and development and marketing dollars were focused on women under 45, and very few brands were talking to women over 40. Yet my friends and I weren't finding products that met our needs as 50-something-year-old women who were experiencing age-related changes in our hair," says Sonsoles Gonzalez, founder and CEO of Better Not Younger, the first hair care line dedicated to the changing needs of mature women. Today, the company is on the forefront of brands, including Pause Well-Aging and Womaness, that are daring to go where previous marketers haven't gone—to great success. 
Speaking of old adages, until very recently, hair was not seen as part of health and wellness. But we now know that without proper nutrients, one can't grow healthy hair. This was one of the many revelations that led Melisse Shaban, the CEO and founder of Virtue Labs, to launch her line. "People were starting to pay more attention to health and wellness and the benefits of high-quality ingredients in pretty much all aspects of their lives. We saw health and wellness for hair as the next frontier," Shaban says. 
Pairing clean beauty with luxury has also been considered an oxymoron historically. "To us, it felt like there were clean brands, but they were pricey, and there were salon-quality brands, but they weren't clean—and the few truly clean but less expensive brands didn't meet our personal performance expectations. In other words, they didn't feel like the fancy we wanted," says Lindsay Holden, co-founder of Odele, which can be found online and at Target. She says that everything from the company's package design to its retail partner speaks to the promise of clean, affordable luxury. Odele's proposition also promotes sustainability by cutting down on bottle clutter—as the products are intended for use by the whole family—something that is increasingly vital to retailers and shoppers alike.
The opportunity for marketers: What other untapped or underrepresented markets are there to uncover? Is there a more holistic way to look at hair—perhaps facial, body and the hair on one's head? Is there a case to be made for products that can be used on the face and scalp (reducing the need for packaging)? Are there more ingredients traditionally used for skin that would make sense for the scalp? 
To get our "Content Marketing Prompts for Beauty Brands" one-pager, click here!
Share Your Product—and Your Knowledge—Freely
So, you've got a great product but no real advertising budget? Give it away! 
"Getting our product into the hands of as many people as possible out of the gate" was crucial to Odele's Holden. "We knew that trying leads to buying when it comes to how amazing our product performs, so we put together 5,000 regimen kits to give away post-launch. That translated to talk and amazing reviews. And for every launch that's followed, we've offered a sample of a full-size product to those interested in our mailing lists—no influencer status needed. I strongly believe the proof is in the product," Holden says.
Shaban concurs. "Before we even had finished goods, we sampled products to about 8,000 people, mostly friends and family, to help us understand what the products actually were doing and what these potential customers were saying about them. Their feedback helped us develop our messaging and copy."
Hair care companies like Carol's Daughter and Prose (as well as Better Not Younger and Virtue) invest in content marketing to educate consumers about their hair, so that purchasing products is not such a complicated process. "We had to lean a lot more into educating our audience, specifically educating her on how her hair changes as she ages and why, so that she understood why we focused on scalp care and inner health along with shampoos, conditioners and styling products," Gonzalez says. 
Getting products into the hands of beauty editors who can write about them from a journalistic (brand-agnostic) point of view is of great value educationally too. "I love editors, writers and journalists," Holden says. "Their reach is wide, they see a lot (A LOT) of products and they call it like it is—good, bad or indifferent."
The opportunity for marketers: Why not pair education with sampling? Use your brand's educational content across platforms as a conduit to sampling—building twice the amount of goodwill from your potential consumers. 
Go Where the Talent Is
Cultivating relationships with hair stylists and influencers, even if it costs money upfront, can yield dividends on the back end when your brand happens to be in the right place at the right time when hair news is made. 
People need to see what your products can do for them. "With hair care, you need to work with the artists. You can talk all you want about how hair feels, but people are looking at the end result," says Alison Brod, owner of Alison Brod Marketing and Communications. "We start with the talent and try to jump into cultural moments and events where there is a key visual at the end. There's a full army that goes into this." Her team constantly monitors the media for breaking hair news. "You have to be super nimble when somebody makes a change," she says. To that end, Brod's team follows movie production schedules, since "celebrities always change their hair for roles."
The opportunity for marketers: Everyone is wondering when the influencer bubble is going to burst. The truth is, it's not. But it could change shape. What if, instead of preaching to the choir (which is what celebrities and influencers tend to be used for), audiences were introduced to unfamiliar faces and concepts? Say, over-40 influencers telling younger audiences what they wish they had known about taking care of their hair when they were younger. Or younger celebrities and influencers speaking to more mature audiences about what's trending now. This content strategy could work across genders, generations and cultures, broadening the reach of your message.
Get Into Your Audience's Head
You may have the best hair care product in the world, but if you don't reach your consumers via one of the routes mentioned above, your message risks, well, going down the drain. And that's where thinking out of the box or tube is essential. One way to do so is to meet them where they live psychographically, not just demographically.
Says Brod, "When we worked with a natural hair care brand, we did a beach cleanup with them in Santa Monica with an activation where they got a bag to clean up trash—and then had their hair done." It made sense that those willing to clean up the planet were probably also interested in cleaning up their hair care routines.
The opportunity for marketers: What other parallels can be drawn between lifestyle habits and hair? Hosting hair activations at sporting events where health and lots of sweat are front and center, perhaps? Or during college move-in week when young adults are just learning to care for themselves on their own?
To ensure your message is a hair ahead of the pack, "don't chase everyone else's ideas," says Virtue's Shaban. "Know your consumer—her needs, her fears, her hopes and her dreams. Stay connected, talk to her often and listen carefully. She's the reason you're in business. Don't let other people tell you no or influence what you know is right for your brand."
To get our "Content Marketing Prompts for Beauty Brands" one-pager, click here!