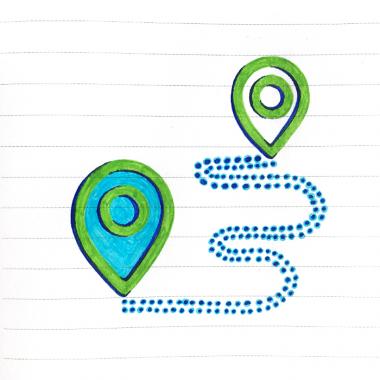 Over the last decade, many marketers have committed resources to establish and grow their content marketing efforts. These efforts are increasingly audience-focused, brand-building and measured.
It takes time and experimentation. It's a marathon, not a sprint.
What differentiates the leaders from the followers in this work is a commitment to a multiyear roadmap. Momentum must build at the enterprise level—and demands far more than a series of campaign tactics.
Strategic leaders in the content arena—think Kraft Heinz, CDW and Bank of America—have found success by building from one year to the next, working off a roadmap that helps their businesses prioritize audiences, strategies, innovations, channels, talent, analytics and, of course, finances.
"Your content roadmap will force you
to think long-term. It will ensure
you put the building blocks in place
that will let you help grow the business."
The main benefit of a roadmap is that it fosters collaboration among multiple stakeholders, who can then see the big picture and build against a long-term strategy versus short-term tactics. You can also use the roadmap to keep business leadership in the loop on future plans, budget asks and aspirations.
What Should You Include in a Content Marketing Roadmap?
Here are the eight categories the roadmap needs to consider:
No. 1: Vision
Establishing a vision for your content marketing investment ensures you define a clear purpose for your content efforts. Equally important, the vision must keep your internal stakeholders in mind. They need to agree with it.
Simply put, the vision should include what you aim to achieve, how you plan to get there and how you will know when you have arrived.
As you work through the vision, you will begin to get an idea of the resources you'll need to deliver on it. You should look at the vision annually to ensure it's in lockstep with your overall business plan. And ideally, the vision should stay consistent over the long term. Reach for the skies!
No. 2: Goals and KPIs
With a clearly defined vision, you next must craft goals and key performance indicators that cover a multiyear period and build from one year to the next.
The goals will become overarching measures of success. They should be commercial in nature—not an engagement rate or page view milestone. Instead, think sales, conversions, order value, retention rate and lifetime value.
The KPIs are a small collection of items that ladder up to your goals and help you course-correct your actions.
As you consider the way your goals and KPIs progress, be careful to connect your them to investment asks that are needed to sustain the overall effort and roadmap.
No. 3: Measurement Framework
Your roadmap should address how to establish the methodology to attribute harder business measures of success. Ideally this should be done in a way that is consistent with other marketing investments. You want to be able to tease out the incremental improvements so that your content investment can take true credit, and so that seasonality can be understood and leveraged for future years.
No. 4: Audience Priorities
Audience insights are the foundation of successful content efforts, especially insights that lead to holistic journey maps. Your journey maps are the perfect canvas on which to overlay content.
You will have many audience choices to make and journey stages to consider. The roadmap should prioritize the order in which you approach them.
The early stages of the roadmap should address audience opportunities that you consider low-hanging fruit, where the audience is efficient to reach and where a positive business effect is most likely.
As your roadmap progresses, you can move to audiences where there is larger volume. But you must be confident you have a content strategy that works before attempting to drive actions in audiences that may be harder to reach.
The roadmap should detail how you intend to extend from niche groups to mainstream groups that have the ability to move your total business.
Be sure to read Byron Sharp's book How Brands Grow to gain a balanced view on identifying the audience groups that make sense for your brand. Content should work for acquisition, retention and cross-selling.
No. 5: Channel Ecosystem
Consider your brand's footprint across owned, earned and paid channels. Are the channels you plan to use the ones that your audience wants you to use? Think about this broadly, not one channel at a time. In that way, your ecosystem will come together by design rather than by default.
Aim to have a strong owned and earned strategy that lets you engage your audience without having to buy media. This approach provides the benefit of having a stronger data basis to work from: first-party data, like email, and your own cookies. It also lets your audience deepen its content consumption within the same session.
Our results have taught us that consumption of three or more pieces of content is predictive of significant improvements in brand scores and conversion to important actions.
Don't forget your retail and customer service channels, where content can play a critical role in meeting your audience's needs. While channel choice continues to proliferate, your roadmap will confirm which channels you should focus on first; the others will come later.
No. 6: Scalable Pilots
Now it's time to establish pilot opportunities. Use your audience insights to consider where content can really help. You should balance the likelihood of the content to succeed with the ease of implementation.
Start with the pilots that most align with top business objectives and the learnings you'll need to optimize your content marketing program. Once you have a long list of pilot options, rank them in a scorecard against criteria, weighted if necessary for emphasis.
Then pick the ones that rise to the top, and tuck away the remainder for future waves of activity. Importantly, aim to find success early to build confidence and momentum.
Finally, understand what scale means for your business, not just in the content arena, and lean into those efforts.
No. 7: Right-Sized Infrastructure
As your plan matures, your marketing technology stack will need to as well to support your long-term objectives. With a solid vision in place, you'll be able to start evaluating systems and partners, and start solidifying budget, buy-in and an implementation roadmap.
Be sure to fully use technologies already in-house. Typically, businesses only use about 50 percent of their marketing technology. Your internal IT team should be an important ally in your efforts.
Over a three-year period, it is possible that you will overcommit to a technology that becomes redundant or too expensive to continue using. For example, data management platforms are becoming less important than they were three years ago because of the change in use of third-party data and cookies.
Your roadmap should force you to establish an infrastructure that is right-sized for this year and the next, but don't feel the need to stretch further.
No. 8: Necessary Resources
Consider an operational model that will let you create and manage content that is both high-quality and reasonably priced. Creating in-house content teams is a major trend, one that may not be flexible or fast-moving. Work out the right balance between internal and external resources.
The earliest stages of a roadmap should encourage use of external resources. As what's working over the long term becomes clear, you can operationalize content efforts by bringing them in-house. That said, your more conceptual content will probably always best be done by a creative partner.
A Real-World Content Roadmap Example
To bring this thinking to life, the Manifest team made a presentation with our CDW client about the CDW content roadmap that resulted in the IT company's content marketing being viewed as among the most strategic around. Here are the highlights:
Paint a picture: Create the story and communicate the vision that supports your roadmap.
Sweat the details: Consider every part of your program and scrutinize its role and purpose.
Build consensus: Make it the organization's roadmap, not yours.
Make it your everything: Leadership and stakeholders will need constant reminders about the roadmap and why it matters.
Don't forget to celebrate: Take every win! Planning, strategizing, consensus building and executing is never-ending and can be quite exhausting.
Your content roadmap will force you to think long-term. It will ensure you put the building blocks in place that will let you help grow the business. Above all, it will give your efforts the visibility to secure commitment and continued investment from your executive and finance teams.
If you would like help building a content roadmap for your brand, or you want to learn more about how Manifest moves audiences to act through content or anything else related to content, please email david.brown@manifest.com.