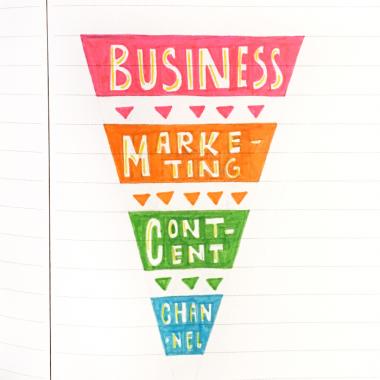 In a world overrun with content, 55 percent of business decision-makers turn to thought leadership to better understand the caliber of brands they're considering working with or purchasing from.
That stat, from Edelman's 2019 B2B Thought Leadership Impact Study, shows the value of content in offering a peek into a brand. It gives business chiefs insights into a company's culture, values and even how it would handle a piece of business and the potential working relationship, says Maliha Aqeel, assistant director of brand, marketing and communications at EY, who spoke at Content Marketing World 2019.
So it is critical for brands to create thought leadership that not only sets them apart from competitors but also clearly defines their purpose, values and work ethic. To do that, Aqeel says, brands should focus on the three C's: content, customers and culture.
How Can a Brand Stand Out?
Aqeel advises that companies create thought leadership that focuses on ideas and insights rather than products and services. It's important to clearly and effectively demonstrate your brand's point of view on issues that matter to your customers and in your industry through a well-defined, omnichannel content strategy.
Purpose and values matter. What's more, purpose must be aligned with the values of the customers your brand hopes to engage. Culture, transparency, ethical values—the intangibles—often matter more than financial performance.
Remember, employees are the biggest potential ambassadors for a brand, Aqeel says. If your employees believe in you, they will be eager to share and become your advocates. That will resonate better than any other type of content, she suggests.
An insight that Aqeel shared that I found most valuable was creating content that abides by the 60-40 rule. Sixty percent of content should be for the purpose of increasing awareness of your brand's expertise, while the other 40 percent should address specific challenges your customers face. 
It's important to create awareness before you take your audience through the rest of your journey, Aqeel says. Often, brands operate in the reverse, focusing immediately on challenges and deep-rooted issues without establishing credibility or brand awareness.
Developing a strategy to ultimately funnel into the next stage is critical, she says. Your business goals should inspire your marketing, which then inspires content that expands to its appropriate channel.
Finally, you must establish a framework to ensure you can create content in the best and most efficient way possible.
Your Aides in the Content Journey
How do you do that? It takes a village. Aqeel broke out the content work into four buckets and suggested how different teams could participate.
Ideation: project management, subject experts, marketing and communications, and sales
Development: research analysts, writers and designers
Deployment: PR, and marketing and communications
Follow-up: business development, analysts, and marketing and communications
Thought Leadership That's Worth a Brand's Effort
Everything we do at our agency aims to achieve that goal of sharing your brand's beliefs and vision with the target audience, not just promoting "stuff." At Manifest, we believe in being unmistakable, that being good is not enough and that we all must collaborate without restraint. Those messages are intertwined in our daily work and in the content that we create for our clients.
Embedding thought leadership in your organizational marketing strategy is not an easy or simple process, and it might even require a culture shift, Aqeel says. But the result, she points out, is clear messaging and content that will resonate immediately and successfully.