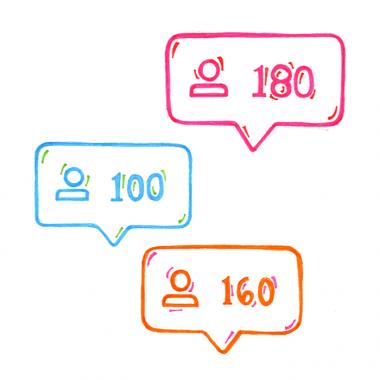 You might have the most captivating Instagram feed online, but if no one sees it, does it really matter?
Gaining Instagram followers is an art of balance. Of course, you want more followers, but the fan base that you earn needs to be real people who engage with your brand and who ideally will buy your products or services.
Obviously, the preferred and least expensive way to grow your following is organically, but that can require frequent posting of spammy teases—think "Tag a friend who …" and "Like and tag this post for …" efforts—that don't necessarily drive quality follows. In a similar vein, contests can result in large follower increase with significant attrition immediately after the winner is announced.
So, what's the answer?
Use Instagram Paid Promotion to Gain Followers
Although Instagram doesn't offer the ability to optimize for followers the way Facebook does, you still can use advertising to build a quality audience. Here are five steps that we recommend to help brands grow followers on Instagram through paid promotion.
Step 1: Develop Your Target Audience
Remember to prioritize quality over quantity. You want to accrue Instagram followers who will engage with your brand, click through your stories and follow the links to your website because, ultimately, they're interested in your content.
Here are some tips on setting up your campaign targeting:
Take advantage of related interests in each ad set to narrow down what's resonating and what isn't.
Use audience layering to ensure that you are getting the most relevant audiences and diversifying your predominant audience interest.
Consider look-alike audiences. Often people that follow and engage with your brand on Instagram have friends and followers of individuals with similar interests. Targeting look-alike audiences is a great way to reach additional followers.
Promote yourself to audiences you've built in other platforms. Your followers on Twitter, Pinterest and, of course, Facebook may also want to follow you on Instagram. Remember: You should ensure that the experiences on Instagram are not a carbon copy of your efforts on other channels.
Step 2: Identify Your Top-Performing Organic Posts
The easiest way to launch your ad strategy is to evaluate what works well in organic. Identify the posts that have the most likes, shares and comments, and use those as a starting point for your ad creative. You can even use them as ads themselves.
Make sure the posts are relevant to your audience and can be revised to meet your goal of driving traffic to your Instagram channel.
Step 3: Create Your Campaign
Developing ads that can be optimized for traffic is the best way to drive user growth. You want users to click a link that drives them to your Instagram channel and encourages them to follow your content.
Set your campaign budget, develop audiences and use creative that encourages impressions and clicks to follow your brand on Instagram.
Step 4: Match Your Messaging to Your Audience
Let's say your brand is a restaurant, and you have identified an audience of health-conscious diners. Obviously, you'll want to make sure that your ads speak to that audience and not the audience that prefers deep-fried food challenges. Be sure to test multiple images and ad copy variations to find the right mix of creative to drive results from your selected audiences.
Keep in mind that after you obtain these audiences, your organic Instagram strategy will need to incorporate these practices as well. You need to cater to all of your new audiences from the refined paid strategy to retain them.
To position your brand for long-term success on Instagram, be sure that you not only interact with followers in the short term but also set a foundation for an ongoing social dialogue to keep your fan base engaged.
Step 5: Analyze, Optimize, Test and Evolve Your Social Advertising Strategy
As with any paid social campaign, you'll find opportunities to improve it once it begins. From turning off certain channels and ad types to excluding or including certain audience targets, you need an agile approach to ensure your return is worth the investment.
Because Instagram lacks visibility into which paid posts drove new followers, you'll need to set up your own baselines and make some assumptions based on performance trending. But when you see that cost per clicks are higher or engagement rates are lower, you can assume those audiences or ads aren't working as intended and turn them off in favor of higher performers.
Although your paid social media is focused on acquiring Instagram followers, you can use this investment strategically for overall better engagement results as well.