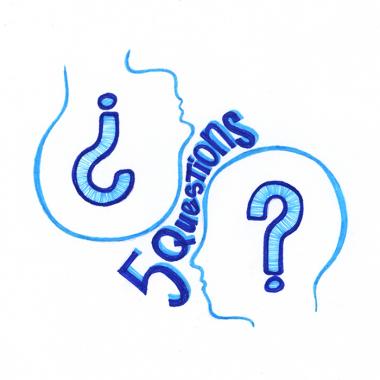 Your Title: Associate creative director
Your Last Job: Freelance associate creative director/copy (for five years—so a lot of different agencies)
The Importance of Critical and Creative Thinking
#1. What's one secret that reveals a lot about how you work?
It's impossible to be critical and creative at the same time. Yet both are absolutely necessary in our work. It can be hard to quiet the inner critic, which is why I like to write in the middle of the night.
That's when I feel the most free to write without a filter or reproach. I allow myself to follow strange threads and seemingly stupid notions. Then, in the bright light of the morning, I can look back at what I've done with a more critical editorial eye to see what's working.
How to Find Inspiration
#2. What inspires you creatively?
Smart, elegant and unexpected solutions to problems that make me say, "I wish I had thought of that." It's both motivating and inspiring. I also find inspiration in things that challenge my assumptions.
If something forces me to get outside of my comfort zone and consider an angle or point of view I hadn't previously, I try to take that lesson into solving future creative tasks.
Transitioning Out of the Restaurant Industry
#3. What drew you to your profession?
I worked in restaurants and hospitality for almost a decade before making the switch. While I have always had a knack for words, I used to think of writers as these serious, committed types who would rather stay home on a Friday night and stare into the abyss of the human condition instead of going out for a good time.
As an extrovert, I fashioned myself more of a service-oriented salesperson, and my successes in the hospitality industry reinforced that self-image. When I learned that I could do both, that I could use writing in service of selling—products, brands, services, ideas and even myself—I jumped at the chance.
Sports and Community
#4. We're audience-obsessed. What's your obsession?
Sports. While I still enjoy playing some, I do a lot more watching these days. I love the sense of community and belonging that being a fan brings.
Sports writ large are the best high-stakes/low-stakes human drama on the planet. It's high stakes for the athletes involved, who are the best in the world at their trade and all took unique paths to arrive on that biggest stage.
We, the audience, feed off of those athletes, feeling the stakes in the moment. But we also understand that in the grand scheme of things—with all that's happening in the world—it's only a game.
Working with Lee Clow at Chiat\Day
#5. Before you joined Manifest, what would you say was your career-defining moment?
It's not often that a career-defining moment comes early at a first job, but mine did. I was working at Chiat\Day in Los Angeles, where 60- to 70-hour weeks were the rule rather than the exception. Lee Clow was still overseeing much of the creative work, and when you're working for a living legend, you set and forced yourself to live up to some ridiculously high standards.
When I learned that Gatorade wanted ideas for a Super Bowl spot, I wasn't invited to the briefing. I was working on three other accounts at the time. But I made sure to get my hands on the brief anyway.
They wanted to boost the profile of Gatorade Powder, which was used at every high school in football-crazy states like Texas, at almost every university with big football programs and, of course, at the pro level. When I told the creative directors one of my ideas, they flipped, said it was great, and that I had to sell it to Lee.
Ultimately, Gatorade opted not to run a Super Bowl ad for Powder. But getting to see Lee's mind at work as he helped me push the idea and get it in front of the client is something I will never forget. It's also a great lesson and reminder that you have to enjoy the process, because so much great thinking and hard work never sees the light of day.