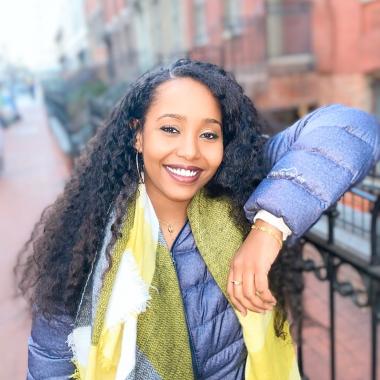 Hi! I'm Meherat Addis, and I am from the Washington, D.C., area.
I am an associate operations manager at Manifest. I, along with a multitalented team, support the integrated content marketing program for CDW. When I am not managing schedules or reviewing layouts, I am usually chasing after my overly adventurous 2-year-old son, who deems himself a member of the Avengers.
I am a big advocate for wellness and self-care, whether it's working out, drinking a cup of tea, meditating, napping or secretly indulging in an entire box of chocolates. Self-care is such an underrated healing modality, especially when all we need for simple self-care is just ourselves. It allows us to take a moment to refocus and recharge. 
For a long time, self-care has been seen as a privilege and not a right. This is what motivated me to learn about various paths for holistic healing. Once I became a mom, it was more important than ever to continually practice self-care and be a role model for my son. Then came 2020, a year we will all never forget. A year riddled with a pandemic, natural disasters, polarizing politics and what felt like a never-ending string of racial and social injustices. As we continue to fight uphill battles, it forces us to make sure that self-care is not reactive, but rather a way of life that should be lived fully. 
While I don't consider the celebration of Black history to be confined to one month, I appreciate that it follows the celebration of a new year. It gives us a chance to commemorate the beauty, excellence and perseverance of our culture and celebrate those who helped pave the arduous way for us to not only survive but thrive. At the same time, it is an opportunity for us to recharge with radical self-care as we continue to push the ideals and visions of those who fought tirelessly to bring us to where we are today. 
"Caring for myself is not self-indulgence. It is self-preservation, and that is an act of political warfare." —Audre Lorde
As a commitment to my own self-care, I find healing spaces that promote these same ideals, including organizations such as Therapy for Black Girls, The Honey Pot Co. and Pholk Beauty. I also create my own hair and skin care products and recently signed up to become a certified herbalist! As we continue on with the celebration of Black History Month, learn about the revolutionary origins of radical self-care and the importance of taking time to restore and refuel. 
Happy Black History Month!