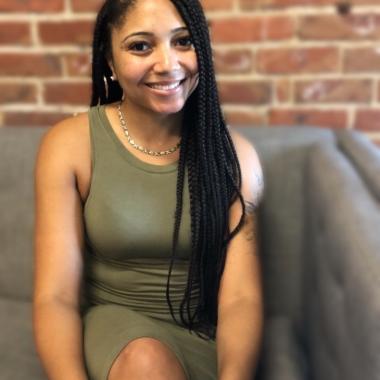 Hey! I'm Candice Watson!
I am a performance media manager at Manifest working out of the New York City studio.

I've been with Manifest just slightly over a year, and my role has shifted quite a bit in that time. One thing I pride myself on is being very adaptable to any circumstance, and if 2020 and a global health pandemic have taught us anything, it is that you must be able to pivot and adjust.

I spend a lot of time on social media, as it has been a prime focus of mine in my career. I find myself, even in my leisure, analyzing and studying the social media strategy and presence of brands. In the face of a pandemic, I grew curious about how brands were going to pivot and adjust to the times and circumstances.

One of my absolute favorites is Hanifa. Last spring, when the world was on lockdown, designer Anifa Mvuemba shook the table with the release of a virtual fashion show that featured her Pink Label Congo collection. 
Fashion shows have been streamed before, so this isn't a new concept, right? Wrong. What made this virtual fashion show such a historical game changer was the use of 3D technology to display the fashions on invisible, yet shapely, models. I have never seen something so innovative before in the fashion industry. I love how she, as a Black woman, is making her mark on what was once such a marginalized industry while also providing the representation in the space for women like me.

Anifa describes a Hanifa girl as a "woman without limits," a "boss" who is not afraid to be bold—a sentiment I share and carry with me every day.